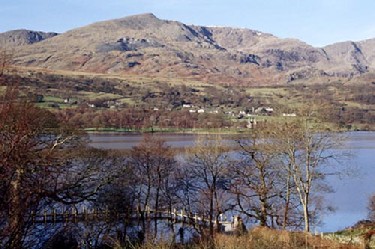 5 nights Cumbria Way Lake District Walk
Tour Period
Feb-Nov. Start any day of the week
Description of Twin/Double
Most accommodation in Britain is charged on a Per Person basis (rather than per room basis). The price you see here for this tour is the Price per Person.
If you request a Twin Room there are two single beds (usually 3 feet wide) in the room.
If you request a Double Room there is one bed in which two people usually sleep (usually 4 feet 6inches wide).
Both the Double and the the Twin room are sometimes available for Single Occupancy (one person in the room), usually with a supplement to compensate the provider who would normally have received payment from two people.
If the accommodation offers Single rooms (one bed of 3 feet wide), this will normally be priced higher than half of a double or twin room. Unless space is limited in the village or accommodation we usually avoid these as the rooms tend to be older and less space to move about.
Tour description
A three centre inn-to-inn, village to village, self guided walking tour in England along the Cumbria Way through the Lakes District National Park from Ulverston to Ambleside in Cumbria. 5 nights bed and breakfast in hotels with en-suite facilities, 4 days walking, luggage transfer, guide book, maps and taxi to and from the trail where required and to Windermere station on the final morning.
This is our easiest walking tour in the Lakes District. The Cumbria Way is the most majestic of walking tours in England and starts from Ulverston, close to the shores of Morecombe Bay in the south of the county, through the Lake District National Park to Ambleside in the centre. It mainly keeps to lowland valleys but occasional rises to cross the upland fells. The walking finishes in Langdale Valley near to Ambleside. This Explore Britain walking tour starts at Ulverston and meanders through farm fields to be picked up at a remote farm near Lowick. You will be taken to Coniston village and return back to this point tomorrow morning. Then you follow the shores of Coniston Water for your second night in Coniston. Now the path takes you through beautiful woodlands with small lakes called Tarn Hows to finish at Skelwith. Your final days walk is from the upper reaches of the Langdale Valley back at Skelwith.
You stop in recommended hotels along the way, where accommodation is available in twin, double and single rooms, all with private facilities. Bed and Breakfast accommodation, luggage transfer between the overnight stays and taxi on the final morning to the nearest rail station at Windermere is included.
Sample schedule
START: Ulverston is about 25 miles north-west of Lancaster.
Are you staying in a City before or after your tour and looking for Accommodation.
FINISH: Ambleside is in the central eastern section of the Lakes National Park.
DAY ONE: Arrival at Ulverston. You can arrive at the guesthouse anytime after 3pm. If you arrive earlier you will be able to drop your bags and walk around the town. Dinner is usually served in hotels and pubs between 7pm - 9pm. (not included in tour price). Overnight at Ulverston, Cumbria, England.
DAY TWO: Walking from Ulverston to Lowick. 7 miles and 500 feet ascent. You leave Ulverston, a pleasant small town, and walk the Cumbria way through farm fields full of sheep, alongside streams and across upland heathland to the remote farm near Lowick. Here you will be collected and taken to Coniston. Dinner can be taken at one of the local pubs in the village (not included in tour price). Overnight at Coniston, Cumbria, England.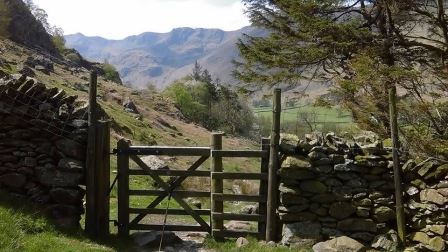 DAY THREE: Walking from Lowick to Coniston. 8 miles and 700 feet ascent. You will be transfered back to where you finished yesterday. You will pass your first Tarn (small upland lake) walk down to and alongside Coniston Lake to finish back at the pretty village of Coniston. An early start to the walk could mean you have time to discover more the village or even take a walk up the Old Man of Coniston. Dinner can be taken at any of the restaurants or pubs in the village (not included in tour price). Overnight at Coniston, Cumbria, England.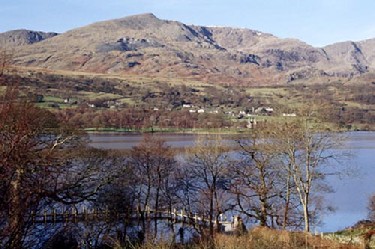 DAY FOUR: Walking from Coniston to Skelwith. 6.5 miles and 300 feet ascent. A pretty walk, but with quite a lot of short ups and downs. Tarn Hows are famous for their beauty of small lakes in a wooded area, and you finish alongside the River Brathay at Skelwith Bridge. Dinner can be taken at the inn (not included in tour price). Overnight at Skelwith, Cumbria, England.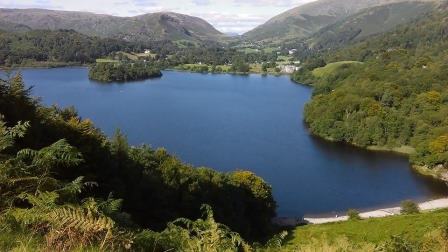 DAY FIVE: Walking from Great Langdale to Skelwith. 6.5 miles and 100 feet ascent. After breakfast you will be tranposted to the top end of Great Langdale. From here you follow the River Brathy downstram tthrough Elterwater back to Skelwith. Dinner can be taken at at the inn (not included in tour price). Overnight at Skelwith, Cumbria, England.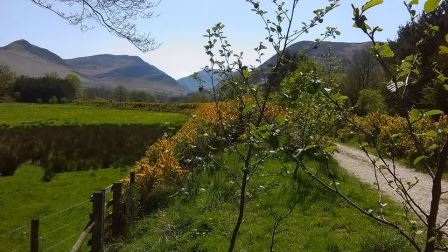 DAY SIX: Departure. A taxi will collect you and your luggage from Skelwith after breakfast, and transfer you to Windermere rail station.
Travel Description
RAIL TRAVEL from LONDON to ULVERSTON (NOT included in tour price): Ulverston is the nearest rail station, which is served by trains every hour from London (Euston). Presently the 10:33am arrives Ulverston 14:00pm (Change at Preston). The 11:33am train arrives 15:55pm (change Preston).
Transfer from SKELWITH to WINDERMERE (included in tour price): The nearest rail station is Windermere. We will organise a taxi to collect you and your luggage and transfer you to Windermere rail station.
RAIL TRAVEL from WINDERMERE to LONDON, GLASGOW and EDINBURGH (NOT included in tour price): The nearest rail station is Winderemere. There are frequent services south to London and north to Glasgow and Edinburgh.
Tour Start Location
Why book with us?
We've got 30+ years of walking tour experience
Only the very best handpicked tours at competitive prices
We work with you to create the perfect holiday. Just ask!
Useful Links
If you can't see exactly what you want - Google may be able to help !
Custom Search
Tours to suit
If you want to book this walking tour, or chat about an altered schedule, please use the 'Enquire Now' tab above or contact us on philip@explorebritain.com
Related Categories
Tour Code:
CW05
Options
Rail tickets to Ulverston and from Windermere
Grade
D
Grade Description
GRADE E: Between 6 - 9 miles (10 - 14kms a day (the occasional day may be shorter or longer than these depending on location of suitable accommodation). Light Waterproof walking boots are desirable. A strong waterproof Jacket and overtrousers are recommended to protect you from rain and cold winds. No more than 1000 feet ascent and/or descent a day. Footpaths through farmland. You will start walking about 9:30am and finish at approx. 4pm.
These grades are for guidance only. For any grade, depending on weather conditions, it may at times be damp underfoot, so waterproof boots are preferable.