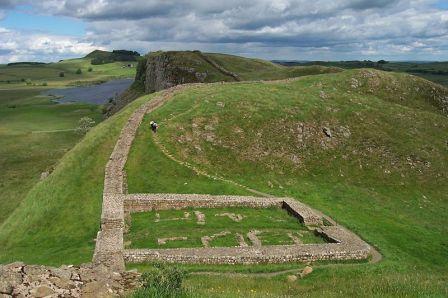 6 nights Walk the best of Hadrians Wall across Northern England
Tour Period
Providing no further outbreaks of Coronavirus, I will be offering this tour to book from April 2022.
Description of Twin/Double
Most accommodation in Britain is charged on a Per Person basis (rather than per room basis). The price you see here for this tour is the Price per Person.
If you request a Twin Room there are two single beds (usually 3 feet wide) in the room.
If you request a Double Room there is one bed in which two people usually sleep (usually 4 feet 6inches wide).
Both the Double and the the Twin room are sometimes available for Single Occupancy (one person in the room), usually with a supplement to compensate the provider who would normally have received payment from two people.
If the accommodation offers Single rooms (one bed of 3 feet wide), this will normally be priced higher than half of a double or twin room. Unless space is limited in the village or accommodation we usually avoid these as the rooms tend to be older and less space to move about.
Tour description
Latest Covid-19 (Coronavirus) restictions affecting bookings: http://www.explorebritain.com/coronavirus-worldwide-outbreak/b49
A four centre inn to inn, self-guided walking tour along the best of Hadrians Wall from Brampton in Cumbria to Corbridge, Northumberland in northern England. 6 nights bed and breakfast accommodation, 5 days walking, walking notes, maps, collection from Carlisle rail station, taxi transfer to walk from Corbridge, transfer from accommodation in Corbridge to rail station and luggage transfer.
This Explore Britain tour follows the best section of Hadrians Wall. After passing the ruins of Lanercost Priory and Birdoswald Fort the scenery becomes more dramatic and you follow the best preserved sections of the Wall past the wild lake of Crag Lough. From the atmospheric ruins of Housesteads Fort, Vindolanda and Chesters you finish at the beautiful town of Corbridge. In AD122 the Roman Emperor Hadrian ordered the construction of a wall across Britain to define the furthest edge of his dominions. Despite the depredations of centuries parts of it still stand, bestriding a spacious countryside of wide-open skies haunted only by the mournful cry of the curlew. These tours follow the theme of the Wall, now designated a World Heritage site.
You stop in country hotels, farmhouses and inns along the way, where accommodation is available in twin, double or single rooms, most but not all with private facilities.
Sample schedule
START: Brampton is about 11 miles east of Carlisle in Cumbria.
Are you staying in a City before or after your tour and looking for Accommodation.
FINISH: Corbridge is 21 miles west of Newcastle upon Tyne in Tyne and Wear.
DAY ONE: Arrival at Brampton. You will be collected from Carlisle rail station and taken to the hotel at Brampton. You may arrive anytime after 3pm. Dinner can be taken in the hotel or any of the nearby inns (not included) at 7pm. Overnight at Brampton, Cumbria, England.
DAY TWO: Walking from Brampton to Gilsland. 8 miles (13km) and 800 feet of ascent. Soon after leaving Brampton you pass Lanercost Priory, made by robbing the red stone of Hadrians Wall. You then descend to the River Irthing and walk through farm fields up to the site of your first Roman Fort at Chapelburn. Then its up from the river to meet the remains of Hadrians Wall and follow it to the fort at Birdoswald. It is then just an hours walk to your overnight guesthouse at Gilsland, close to a Milecastle! Overnight at Gilsland, Cumbria, England.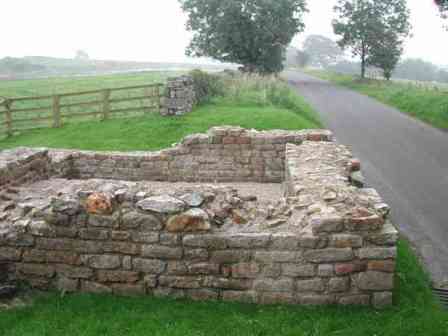 DAY THREE: Walking from Gilsland to Haltwhistle. 8 miles (13km) and 1,500 feet of ascent. There is quite a lot of up and down as you have one of the best days on Hadrians Wall. You stay with it all day from Gilsland to Thirlwall Castle and then along the ridge, with excellent views, to Shield-on-the-Wall passing many a Fort and Milecastle. Then you drop down Haltwhistle Burn to arrive at your overnight accommodation. Overnight at Haltwhistle, Northumberland, England.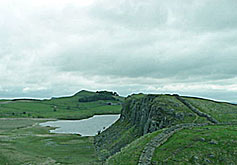 DAY FOUR: Walking from Haltwhistle to Bardon Mill. 13 miles (21km) and 1,500 feet of ascent. You start by following the Burn back up to Hadrians Wall and follow it to Housesteads Roman Fort. Then its southwards to Vindolanda and finish the walk at Bardon Mill rail station, from where you catch the short train journey back to Haltwhistle and finish with a stroll to the accommodation. Overnight at Haltwhistle, Northumberland, England.
DAY FIVE: Walking from Hexham to Corbridge. 6 miles (10km) and 300 feet of ascent. Today you walk back to Haltwhistle station and catch the train to Hexham. Here you visit Hexham Abbey and the quaint old town centre. Then its off walking through the woods surrounding Dukes House and down to the river called Devils Water. You then follow the riverside banks of the Tyne into the town of Corbridge and your guesthouse. Overnight at Corbridge, Northumberland, England.
DAY SIX: Walking from Chesters to Corbridge. 10 miles (16km) and 700 feet of ascent. Today has one up and then its downhill all the way home. We will arrange a taxi (included in tour price) to take you out to Chesters Roman Fort, perhaps the best example of a Roman occupation site. You then walk firstly along the River Tyne and then up onto comb Fell to visit the little isolated church at Heavenfield. Now its downhill along Fallowfield Dene and along back roads through the village of Anick and finishing along the Tyne to the guesthouse at Corbridge. Overnight at Corbridge, Northumberland, England.
DAY SEVEN: Departure. The tour finishes from Corbridge after breakfast with taxi transfer to the rail station (included in tour price).
Travel Description
RAIL TRAVEL from LONDON, NEWCASTLE to CARLISLE (NOT included in tour price): Carlisle is the nearest rail station. Presently the 10:30 train from London (Euston) arrives in Carlisle at 13:49. There are later trains. If arriving from the North Shields Ferry Port. Service bus 327 (operated by OK Travel) meets the ferry and will transfer you to Newcastle Central Station, from where you can catch a train to Carlisle.
RAIL TRAVEL from CORBRIDGE to CARLISLE, NEWCASTLE and LONDON (NOT included in tour price): Corbridge is the nearest rail station. You may require a taxi for the 3/4 mile journey to the station. Presently the 09:57am train from Corbridge arrives London (Kings Cross) at 14:02pm (change Newcastle). The 09:25am arrives London (Euston) 14:49pm (change Hexham and Carlisle).
Why book with us?
We've got 30+ years of walking tour experience
Only the very best handpicked tours at competitive prices
We work with you to create the perfect holiday. Just ask!
Useful Links
If you can't see exactly what you want and we are unable to adjust our tour shown here - Google may be able to help !
Custom Search
Tours to suit
If you want to book this walking tour, or chat about an altered schedule, please use the 'Enquire Now' tab above or contact us on philip@explorebritain.com
Related Categories
Tour Code:
HB06
Options
Discount rail tickets to Carlisle and from Corbridge
Grade
C
Grade Description
GRADE C: Between 9 - 12 miles (14 - 19kms) a day (the occasional day may be shorter or longer than these depending on location of suitable accommodation). Strong waterproof walking boots are desirable. A strong waterproof Jacket and overtrousers are recommended to protect you from rain and cold winds. This tour goes through some areas of remote habitation, and high mountains. You will do up to 2500 feet of ascent and/or descent a day. You will be walking through Farms and walking on Trackless Moorland. You will start walking about 9:30am and finish at approx. 5pm.
For safety reasons, you must be extremely proficient if you intend to walk alone. We strongly suggest against this. Ask yourself can you walk for hours, in driving rain and low visibility, confident in your map reading skills and morale boosting abilities? A friend in need is almost essential.
These grades are for guidance only. For any grade, depending on weather conditions, it may at times be damp underfoot, so waterproof boots are preferable.