7 night Hiking tour Along the Great Glen Way in Scotland
Tour Period
Providing no further outbreaks of Coronavirus, I will be offering this tour to book from January 2022.
Description of Twin/Double
Most accommodation in Britain is charged on a Per Person basis (rather than per room basis). The price you see here for this tour is the Price per Person.
If you request a Twin Room there are two single beds (usually 3 feet wide) in the room.
If you request a Double Room there is one bed in which two people usually sleep (usually 4 feet 6inches wide).
Both the Double and the the Twin room are sometimes available for Single Occupancy (one person in the room), usually with a supplement to compensate the provider who would normally have received payment from two people.
If the accommodation offers Single rooms (one bed of 3 feet wide), this will normally be priced higher than half of a double or twin room. Unless space is limited in the village or accommodation we usually avoid these as the rooms tend to be older and less space to move about.
Tour description
7 night self-guided tour hiking in Scotland along the Great Glen Way from Fort William to Inverness. The great glen way uses the Caledonian canal, forest and minor roads for 73 miles (117km) past Loch Lochy, Loch Oich. 8 day tour, 6 days walking in bed and breakfast accommodation, luggage transfer, detailed route descriptions and maps. This hiking tour should be booked at least 6 months or more ahead. WE ARE NOW UNABLE TO GET ROOMS in JUNE, JULY, AUGUST or EARLY SPETEMBER.
This is hiking in Scotland at its best, with a gentle start and a dramatic finish. Starting at the well-known town of Fort William the Great Glen Way moves from the west coast and passes Britains highest mountain, follows its greatest geological fault along the shores of its most famous loch and finishes at Inverness, Scotland's north-most city and the capital of the highlands on the east coast. Most of the walking on the Great Glen Way is straightforward, along canal towpaths and forest tracks, but there are some challenging sections. The great glen walk alongside the Caledonian Canal has been planned walking north-east from Fort William to Inverness. The prevailing wind in Scotland is south-westerly, so you are more likely to have the wind in your back. Also the more challenging parts of the Great Glen Way are nearer to Inverness, by which time you'll be well into your stride.
This route is served by direct bus and train links from Glasgow and Edinburgh.
Sample schedule
START: Fort William is about 107 miles north of Glasgow on the west coast of Scotland.
Are you staying in a City before or after your tour and looking for Accommodation.
FINISH: Inverness, on the east coast Scotland.
ARRIVAL DAY: Arrival at Fort William. You are welcome to arrive at the guesthouse any time after 3pm. Evening meals may be purchased in any of the pubs, hotels or restaurants in the town. Overnight at Fort William, Highland Region, Scotland.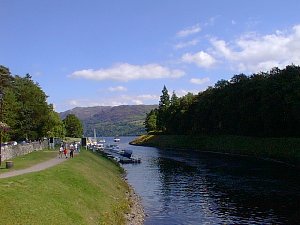 WALKING DAY ONE. Hike from Fort William to Gairlochy 10.5 miles (17km). Flat walking with many interesting features, including the flight of locks at Neptune's Staircase on the Caledonian canal and views of Ben Nevis. Overnight at Gairlochy, Highland Region, Scotland.
WALKING DAY TWO. Hike from Gairlochy to South Laggan 12 miles (19km). Fairly easy walking along the lengths of Loch Lochy with splendid views. Overnight at South Laggan, Highland Region, Scotland.
WALKING DAY THREE. Hike from South Laggan to Fort Augustus. 11 miles (18km). Scenic sections along Loch Oich-side and past Kytra Lock with mixed woodland and lovely views. You finish at the beautiful Fort Augustus with its ancient priory and flight of locks on the Caledonian canal. Overnight at Fort Augustus, Inverness-shire, Scotland.
WALKING DAY FOUR. Hike from Fort Augustus to Invermoriston. 11 miles (18km). Forest tracks, with some steep ascents alongside Loch Ness to Invermoriston. Overnight at Invermoriston, Inverness-shire, Scotland.
WALKING DAY FIVE. Hike from Invermoriston to Drumnadrochit. 14 miles (22km). Fine forest section above Loch Ness, then plateau moorland and farmland with excellent views over Loch Ness. Overnight at Drumnadrochit, Inverness-shire, Scotland.
WALKING DAY SIX. Hike from Drumnadrochit to Inverness. 18 miles (29km). Perhaps the most challenging section of the way, with some spectacular views, finishing at Inverness Castle. This day can be avoided by taking the local bus to Inverness and spend some time discovering this ancient city and perhaps taking the sightseeing bus out to visit the Culloden Battlefield, a pivotal event in Scottish clan history. Overnight at Inverness, Inverness-shire, Scotland.
DEPARTURE DAY: The tour finishes after breakfast from Inverness.
Tour Start Location
Why book with us?
We've got 30+ years of walking tour experience
Only the very best handpicked tours at competitive prices
We work with you to create the perfect holiday. Just ask!
Useful Links
If you can't see exactly what you want - Google may be able to help !
Custom Search
Tours to suit
If you want to book this walking tour, or chat about an altered schedule, please use the 'Enquire Now' tab above or contact us on philip@explorebritain.com
Related Categories
Tour Code:
ED07
Options
Discount rail tickets to Fort William and from Inverness.
Grade
C
Grade Description
GRADE C: Between 9 - 12 miles (14 - 19kms) a day (the occasional day may be shorter or longer than these depending on location of suitable accommodation). Strong waterproof walking boots are desirable. A strong waterproof Jacket and overtrousers are recommended to protect you from rain and cold winds. This tour goes through some areas of remote habitation, and high mountains. You will do up to 2500 feet of ascent and/or descent a day. You will be walking through Farm and walking on Trackless Moorland. You will start walking about 9:30am and finish at approx. 5pm.
For safety reasons, you must be extremely proficient if you intend to walk alone. We strongly suggest against this. Ask yourself can you walk for hours, in driving rain and low visibility, confident in your map reading skills and morale boosting abilities? A friend in need is almost essential.
These grades are for guidance only. For any grade, depending on weather conditions, it may at times be damp underfoot, so waterproof boots are preferable.
You can monitor the daily forecast (and up to a week ahead) at the BBC weather site for Fort William: https://www.bbc.co.uk/weather/0/2649169 and Fort Augustus https://www.bbc.co.uk/weather/0/2649183 and for Inverness https://www.bbc.co.uk/weather/0/2646088