DFDS Seaways for ferry travel mini-cruise North Shields Newcastle England to Ijmuiden Amsterdam Holland Netherlands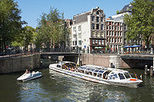 Amsterdam Canal Bus Hop-On Hop-Off


2 for 1 on Mini Cruises This great customer offer is back! Starting 2nd January 2013, customers can take advantage of a 2-Night Mini Cruise from as little as £79 for 2 People !


Save 40% Mini Cruise Break to Amsterdam from Newcastle.
Overnight Amsterdam ferry special. Treat your loved one to a short break to Amsterdam. Visit some of the cities most romantic museums, and take advantage of this great mini cruise offer. Ferry travel mini-cruise North Shields Newcastle England to Ijmuiden Amsterdam Holland Netherlands DFDS Seaways. What's included? - 2 night's onboard, in your chosen cabin, Sightseeing tour of Amsterdam, Coach transfers to and from Amsterdam port, Live entertainment onboard DFDS Seaways for ferry travel mini-cruise North Shields Newcastle England to Ijmuiden Amsterdam Holland Netherlands.




A 2 night family short break to Amsterdam is so much more than just a break away with the family, Stepping on board one of our big white HolidayLiners is always an adventure, especially for children no matter what their age. For the very young, there are dedicated play areas which are safe, secure and lots of fun. For older children with mutiny in mind, the Pirates Club is the place to be where the delight of dressing up as pirates is accompanied by hours of treasure hunts and competitions. On this family short break to Amsterdam getting there really is half the fun, you also get to explore this fun city, with a transfer bus from the port of Ijmuiden into central Amsterdam, holand. By day, a magnificent way to explore Amsterdam is by canal tourist boat. From the water youíll have an impressive view of the hustle and bustle of Amsterdamís daily life. At night, all the bridges are beautifully lit. Most canal cruises depart from the Central Station. Special cruises, like a museum boat tour are also available.

About DFDS Seaways. When you sail with DFDS Seaways you will experience a special maritime atmosphere, with professional staff and an international level of service. Many view us as the very best travel option, in terms of the range of services we offer for both passenger and vehicle transport. For more than 139 years DFDS has been operating passenger ships between European cities, and it is now one of the biggest passenger shipping companies in Northern Europe. We now operate five modern passenger ships with experienced crews, and measured in terms of overnight stays we are one of the biggest hotel chains in Scandinavia. With approx. 7,000 overnight stays per day during the summer season, we transport approx. 1.7 million passengers and approx. 200,000 vehicles on four routes between Denmark, Sweden, Holland, the UK and Norway.

DFDS Seaways offers a choice of four routes sailing from the UK to the Continent. All our routes take you to the gateways of Europe with easy motorway access for your onward journey. You can take your car, caravan or motorbike, and because we don't make any excess baggage charges you can pack in whatever you want. Whether you've loaded up the car for a big family camping holiday or are simply carrying your skis, you won't have to worry - it all travels free. Daily departures from North Shields Newcastle at 17.30 hours to arrive Ijmuiden Amsterdam at 09.30 hours the next day. And if you are visting England or Scotland then the early arrival at Newcastle allows you to start your holiday right away. See Hadrian's Wall, Northumberland Castles and the Scottish Border within one hour of berthing, unless you want to stay and see Newcastle or watch the game of football. Daily departures from Ijmuiden Amstadam at 18.00 hours to arrive in Newcastle at 09.00 hours the next day.



Search the Web and our website for what you are looking for: