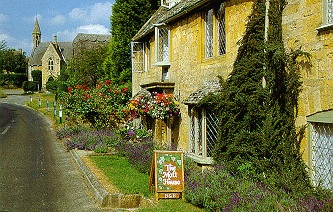 England the Cotswalds from Chipping Campden to Bath
Tour Period
Start Any Day February to November
Description of Twin/Double
Most accommodation in Britain is charged on a Per Person basis (rather than per room basis). The price you see here for this tour is the Price per Person.
If you request a Twin Room there are two single beds (usually 3 feet wide) in the room.
If you request a Double Room there is one bed in which two people usually sleep (usually 4 feet 6inches wide).
Both the Double and the the Twin room are sometimes available for Single Occupancy (one person in the room), usually with a supplement to compensate the provider who would normally have received payment from two people.
If the accommodation offers Single rooms (one bed of 3 feet wide), this will normally be priced higher than half of a double or twin room. Unless space is limited in the village or accommodation we usually avoid these as the rooms tend to be older and less space to move about.
Tour description
An eleven centre, village to village, inn-to-inn, self-guided tour walking along the Cotswald Way from Chipping Campden to Bath in Gloucestershire, England. 11 nights bed and breakfast accommodation, 10 days walking, luggage transfer, guide book and maps.
The Cotswald Way in Gloucestershire follows the escarpment of the Cotswald hills from the small town of Chipping Campden to the Georgian City of Bath. This 11 night cotswalds tour starts at the northern end, Chipping Campden and finishes at Bath, having completed 100 miles through the Gloucestershire countryside. The route offers a variety of scenery, from hilltop viewpoints to valley woodlands, through villages and farmland. You start at Chipping Campden nearly on the Worcestershire border close to Stratford-upon-Avon. Soon the cotswald way "races" along "The Mile Drive" and looks down from Broadway Tower to the pretty village of Broadway and where you finish for the night, Stanton. The next day passes through Stanway and past Hailes Abbey to the larger town of Winchcombe. Passing the site of a Roman Villa and Belas Knap long barrow will bring you to the edge of Cheltenham. The next day you find yourself walking along the escarpment edge to finish at the immaculate Painswick. Your next night is spent at a remote inn deep in the Cotswald landscape, far from the madding crowd and "at home" with the locals. Now the scenery gets more impressive, with views out to the Bristol Channel and Wales. You pass through the delightful Cotswald towns of Wotton-under-Edge and Dursley. You settle for the night below ancient monuments such as the pre-historic Hill Fort at Old Sodbury and the occasional Long Barrow and finish at the Abbey churchyard, by the Roman Baths in Bath.
You stop in hotels, country guesthouses, farmhouses and inns along the way, where accommodation is available in twin, double or single rooms, most but not all with private facilities. B&B and luggage transfer between the overnight stays is inclusive.
Sample schedule
START: Chipping Campden is about 10 miles south of Stratford-upon-Avon.
FINISH: Bath is about 11 miles south-east of Bristol.
DAY ONE: Arrival at Chipping Campden. You can arrive at the hotel anytime after 3pm. Dinner is usually served in hotels and pubs between 7pm - 9pm (not included in tour price). Overnight at Chipping Campden, Gloucestershire, England.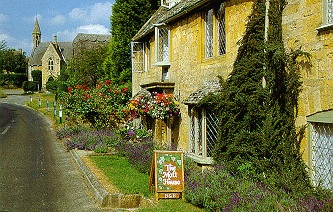 DAY TWO: Walking from Chipping Campden to Broadway and then Stanton to Broadway. 10 miles (16km) and 1,175 feet ascent. On this first day the Cotswald Way takes you along 'The Mile Drive' and then heads up to the Broadway Tower and then down to the pretty stone village of Broadway. From here you take the taxi to Stanton (Included in tour price) finish back at Broadway. No en-suite rooms are now available for one night stays in Stanton (which is why we do it this way). Dinner can be taken at the hotel or nearby pubs (not included in tour price). Overnight at Broadway, Gloucestershire, England.
DAY THREE: Walking from Stanton to Winchcombe. 8 miles (12km) and 135 feet ascent. The taxi will take you to Stanton, from where you continue your walkA low-level day today except for the one rise up onto Stumps Cross. Your cotswalds walk finishes at the town of Winchcombe, with much of interest, hiding within the streets. Dinner can be taken at any of the local inns or restaurants (not included in tour price). Overnight at Winchcombe, Gloucestershire, England.
DAY FOUR: Walking from Winchcombe to Cleeve Hill. 6 miles (9 km) and 740 feet ascent. Passing the site of a Roman Villa and Belas Knap long barrow will bring you to the edge of Cheltenham but still high up on the Cotswold escarpment. Overnight at Cleeve Hill, Gloucestershire, England.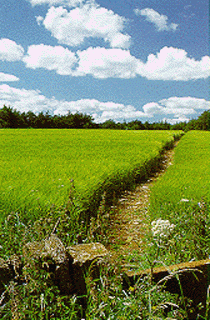 DAY FIVE: Walking from Cleeve Hill to Birdlip. 15.8 miles (25.5km) and 615 feet ascent. A long but excellent day for grand views as you go through Crickley Hill Country Park to arrive at the Air Balloon pub. The guesthouse nestles under the edge of the escarpment. Overnight at Birdlip, Gloucestershire, England.
DAY SIX: Walking from Birdlip to Painswick. 8 miles (12km) and 430 feet ascent. This is a short day today, allowing you time to look around Painswick at the end of the day. The route now keeps to woodland before arriving at Painswick Beacon. You follow the escarpment to pass Paradise. Dinner can be taken in the hotel or nearby inns (not included in tour price). Overnight at Painswick, Gloucestershire, England.
DAY SEVEN: Walking from Painswick to Nympsfield. 13 miles (21km) and 770 feet ascent. A longish day today but thankfully the Cotswald Way has no steep gradients. You ascend from Painswick to Harefield Hill with its Iron Age Fort. From here you descend to the Stroudwater Canal and then rise up again to finish at Nympsfield near Stroud. Dinner can be taken in the inn (not included in tour price). Overnight at Nympsfield, Gloucestershire, England.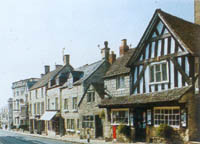 DAY EIGHT: Walking from Nympsfield to Wotton-under-Edge. 12 miles (19km) and 1,500 feet ascent. Up onto the tops again at Westridge to the monument on Nibley Knoll. You follow the route around the Golf Course on Stinchcombe Hill and down to the Long Street of Dursley. Not too much ale at lunchtime as you have a number of ups and downs before finishing the night at the delightful Cotswald village of Wotton-under-Edge. Dinner can be taken at the many inns in the village (not included in tour price). Overnight at Wotton-under-Edge, Gloucestershire, England.
DAY NINE: Walking from Wotton-under-Edge to Old Sodbury. 12 miles (19km) and 780 feet ascent. You go through Old Sodbury Hill Fort and the rest of the day is across farmland and the woodlands around Kilcott and Wortley Hill. You pass a Long Barrow on Blackquarries Hill before descending to Old Sodbury for the night. Dinner can be taken at the nearby pub (not included in tour price). Overnight at Old Sodbury, Gloucestershire, England.
DAY TEN: Walking from Old Sodbury to Marshfield. 9 miles (14km) and 300 feet ascent. You now ascend to Tormarton through the Capability Brown designed park of Dodington House. Passing through Dyrham with its Deer Park you arrive at Cold Ashton, from where you telephone your guesthouse to collect you. Dinner can be taken at the many pubs or restaurants in Marshfield (not included in tour price). Overnight at Marshfield, Gloucestershire, England.
DAY ELEVEN: Walking from Marshfield to Bath. 10 miles (16km) and 815 feet ascent. Your accommodation will return you to Cold Ashton from where you meander through farms and small woods onto Lansdown Hill. Past the Granville Monument before dropping down to the city of Bath. You can choose to take dinner in one of the many Inns or restaurants inn the city (not included in tour price). Overnight at Bath, Gloucestershire, England.
DAY TWELVE: Departure. The tour finishes from Bath after breakfast.
Travel Description
RAIL TRAVEL from LONDON to MORETON-IN-MARSH (NOT included in tour price): Moreton-in-Marsh is the nearest rail station. Trains run every hour from London (Paddington) to Moreton-in-Marsh. Presently the 14:10pm arrives at 16:12pm.
Service bus 22 operated by Midland Red operates from the rail station to Chipping Campden. It is a very short walk from the town centre to the guesthouse. You can get a taxi for the 10 miles from Moreton-in-Marsh to Chipping Campden.
RAIL TRAVEL from BATH SPA to LONDON (NOT included in tour price): Bath Spa is the nearest rail station, which is served by trains every 30 minutes to London (Paddington). Presently the 11:45am from Bath Spa arrives 13:05pm.
Tour Start Location
Why book with us?
We've got 30+ years of walking tour experience
Only the very best handpicked tours at competitive prices
We work with you to create the perfect holiday. Just ask!
Useful Links
If you can't see exactly what you want and we are unable to adjust our tour shown here - Google may be able to help !
Custom Search
Tours to suit
If you want to book this walking tour, or chat about an altered schedule, please use the 'Enquire Now' tab above or contact us on philip@explorebritain.com
Related Categories
Options
Discount rail ticket to Moreton-in-Marsh and from Bath.
Grade
C
Grade Description
GRADE C: Between 9 - 12 miles (14 - 19kms) a day (the occasional day may be shorter or longer than these depending on location of suitable accommodation). Strong waterproof walking boots are desirable. A strong waterproof Jacket and overtrousers are recommended to protect you from rain and cold winds. This tour goes through some areas of remote habitation, and high mountains. You will do up to 2500 feet of ascent and/or descent a day. You will be walking through Farms and walking on Trackless Moorland. You will start walking about 9:30am and finish at approx. 5pm.
For safety reasons, you must be extremely proficient if you intend to walk alone. We strongly suggest against this. Ask yourself can you walk for hours, in driving rain and low visibility, confident in your map reading skills and morale boosting abilities? A friend in need is almost essential.
These grades are for guidance only. For any grade, depending on weather conditions, it may at times be damp underfoot, so waterproof boots are preferable.