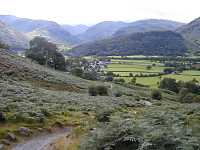 Hike across England from St Bees to Kirkby Stephen
Tour Period
Providing no further outbreaks of Coronavirus, I will be offering this tour to book from January 2022.
Description of Twin/Double
Most accommodation in Britain is charged on a Per Person basis (rather than per room basis). The price you see here for this tour is the Price per Person.
If you request a Twin Room there are two single beds (usually 3 feet wide) in the room.
If you request a Double Room there is one bed in which two people usually sleep (usually 4 feet 6inches wide).
Both the Double and the the Twin room are sometimes available for Single Occupancy (one person in the room), usually with a supplement to compensate the provider who would normally have received payment from two people.
If the accommodation offers Single rooms (one bed of 3 feet wide), this will normally be priced higher than half of a double or twin room. Unless space is limited in the village or accommodation we usually avoid these as the rooms tend to be older and less space to move about.
Tour description
A seven centre inn to inn, self-guided hike on the western section of Wainwrights coast to coast trail through Cumbria in England. St. Bees on the west coast to Kirkby Stephen in the centre of England. 7 nights bed and breakfast, 6 days hiking, luggage transfer, guide book and maps. Due to problems of obtaining one night stays over weekends in the Lake District, we suggest starting on a Friday, Saturday or Sunday night.
This tour follows the western half of Wainwrights Coast to Coast hike, crossing the Lake District National Park. You start at St Bees on the west coast on the Irish sea and gradually work your way over the mountains and through the passes of the Lake District National Park. You pass through rugged Borrowdale, pretty Grasmere over striding edge to Patterdale before departing the park at Shap. Now you cross the Pennine Hills, the backbone of England to finish half way across England at Kirkby Stephen.
Catch the myriad of wild flowers in May and June or hillsides purple with heather in August or September. Moving on from inn to inn, each with its own character, gives you the chance to experience the varied gastronomic delights available in the different areas, from Cumberland sausage to Yorkshire lamb.
The Coast to Coast Path links up existing footpaths across the country. It is the most popular long-distance path but is not maintained by local or national organisations. You will find very few signposts or waymarking as it twists and turns to try and keep a more-or-less straight line. You will need to pay close attention to the excellent guidebook and quickly learn to read the overmarked route on your maps. Without these two valuable resources you will quickly become lost and put yourself in danger from doing longer than required days, or travelling a long way from your intended destination (like the next valley, or heading the opposite direction!). We have a system in place, where if you do not arrive at your destination that night by 8pm, we will initiate a mountain rescue team search.
Your luggage is transported between accommodation so it is only necessary to carry a small rucksack, but this is the most strenuous section of the coast to coast hike, so you must be very fit.
You stop in country hotels, guesthouses, farmhouses and inns along the way, where accommodation is available in twin, double or single rooms, most but not all with private facilities. 7 nights bed and breakfast accommodation and luggage transfer between the overnight stays is included in the tour price. You will be issued with Wainwrights guide book and high scale Ordnance Survey maps (topo maps) suitable for remote travel.
Sample schedule
START: St Bees on the western side of Britain (near Carlisle).
Are you staying in a City before or after your tour and looking for Accommodation.
FINISH: Kirkby Stephen in the centre of England.
DAY ONE: Arrival at St Bees. You may arrive anytime after 3pm. Dinner is usually served in the local pubs between 7pm - 9pm (not included in tour price). Overnight St Bees, Cumbria, England.
DAY TWO: Hike from St Bees to Ennerdale Bridge. 14.5 miles (23 km) and 1,200 feet of ascent. You hike across small hills from the IRISH SEA at St Bees Head to the edge of the Lake District National Park. Dinner can be taken at the nearby Inn (not included in tour price). Overnight Ennerdale Bridge, Cumbria, England.
DAY THREE: Hike from Ennerdale Bridge to Borrowdale. 16.5 miles (23 km) and 2,000 feet of ascent. The first real day in the Lake District National Park, with the steep ascent up from Ennerdale Water to Black Sail Pass and the high fells. You then descend into the craggy Borrowdale. Dinner can be taken at the nearby inn (not included in tour price). Overnight Rosthwaite, Cumbria, England.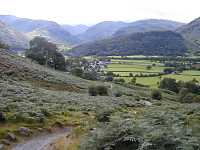 DAY FOUR: Hike from Borrowdale to Grasmere. 8.5 miles (15 km) and 1,800 feet of ascent. You again ascend through the Lake District summits and finally descend into Grasmere, where once Wordsworth spent his time at Dove Cottage. Dinner can be taken at any of the nearby inns (not included in tour price). Overnight Grasmere, Cumbria, England.
DAY FIVE: Hike from Grasmere to Patterdale. 9.5 miles (13.6 km) and 2,000 feet of ascent. Weather permitting you will hike along Striding Edge from the summit of Helvellyn at 3,116 feet, the highest point of the hike. You descend to Glenridding and Patterdale on the shores of Ullswater. Dinner can be taken at the nearby inn or hotels (not included in tour price). Overnight Patterdale, Cumbria, England.
DAY SIX: Hike from Patterdale to Shap. 16 miles (26 km) and 3,000 feet of ascent. This is one of your toughest days, but undoubtedly the grandest. You ascend onto the 2,700-foot high ridge known as High Street, once used as a road by the Romans. Then its up and down a couple of minor summits to descend at the end of the day to Shap. Dinner can be taken at the nearby Inn (not included in tour price). Overnight Shap, Cumbria, England.
DAY SEVEN: Hike from Shap to Kirkby Stephen. 20.5 miles (32 km) and 1,500 feet of ascent. You leave the Lake District National Park behind now and start to cross the Vale of Eden. You may even have time to stop at a pub around midday and sneak into a home-made chocolate factory. Dinner can be taken at any of the nearby inns (not included in tour price). Overnight Kirkby Stephen, Cumbria, England.
DAY EIGHT: Departure. The tour finishes from Kirkby Stephen after breakfast.
Travel Description
RAIL TRAVEL from LONDON to ST BEES (NOT included in tour price): St Bees is the nearest rail station. Trains run every hour from Carlisle to St Bees. Carlisle is served by hourly trains from London Euston. Presently the 08:07am train from London Kings Cross arrives St Bees at 14:56pm.
RAIL TRAVEL from KIRKBY STEPHEN to LONDON (NOT included in tour price): Kirkby Stephen is the nearest rail station, which is served by infrequent trains every two hours to London (Euston). Presently the 11:00am from Kirkby Stephen arrives London at 16:43pm.
Tour Start Location
Why book with us?
We've got 30+ years of walking tour experience
Only the very best handpicked tours at competitive prices
We work with you to create the perfect holiday. Just ask!
Useful Links
If you can't see exactly what you want - Google may be able to help !
Custom Search
Tours to suit
If you want to book this walking tour, or chat about an altered schedule, please use the 'Enquire Now' tab above or contact us on philip@explorebritain.com
Related Categories
Tour Code:
CC07
Options
Discount rail tickets to St Bees and from Kirkby Stephen.
Grade
B
Grade Description
GRADE B: Between 8.5 - 20.5 miles a day (the occasional day may be shorter or longer than these depending on location of suitable accommodation). Strong waterproof hiking boots are desirable. A strong waterproof Jacket and overtrousers are recommended to protect you from rain and cold winds.
This tour goes through some areas of remote habitation, and high mountains. On some days you may have up to 4500 feet of ascent and/or descent. You will be walking through Farms & on Trackless Moorland. You will start hiking about 9:30am and finish at approx. 6pm.
You MUST be very fit to achieve your goal to go Coast to Coast. You MUST also have good map reading skills because the route is not waymarked or, at times, very visible on the ground. The mountains can be shrouded in mist or rain, and you MUST be prepared for this.
For safety reasons, you must be extremely proficient if you intend to hike alone. We strongly suggest against this. Ask yourself can you hike for hours, in driving rain and low visibility, confident in your map reading skills and morale boosting abilities? A friend in need is almost essential.
These grades are for guidance only. For any grade, depending on weather conditions, it may at times be damp underfoot, so waterproof boots are preferable.