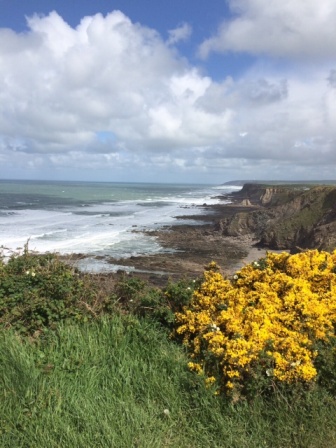 Hike the North Cornwall Coast Path from Bude to Tintagel
Tour Period
Start Any Day February to June. October to November
Description of Twin/Double
Most accommodation in Britain is charged on a Per Person basis (rather than per room basis). The price you see here for this tour is the Price per Person.
If you request a Twin Room there are two single beds (usually 3 feet wide) in the room.
If you request a Double Room there is one bed in which two people usually sleep (usually 4 feet 6inches wide).
Both the Double and the the Twin room are sometimes available for Single Occupancy (one person in the room), usually with a supplement to compensate the provider who would normally have received payment from two people.
If the accommodation offers Single rooms (one bed of 3 feet wide), this will normally be priced higher than half of a double or twin room. Unless space is limited in the village or accommodation we usually avoid these as the rooms tend to be older and less space to move about.
Tour description
A four centre inn-to-inn, self-guided walking tour on the Cornwall Coast Path from Bude to Tintagel in Cornwall, England. 4 nights bed and breakfast, 3 days walking, luggage transfer, transfer from Tintagel to Bodmin Parkway rail station on final morning, guide book and maps.
You walk along the South West Coast Path from the Cornwall resort of Bude. Here the Atlantic is fierce and the stunning cliff scenery rugged as you descend to Crackington Haven and on to Boscastle Harbour, now part of the National Trust. At Rocky Valley there are Bronze Age rock carvings and at Tintagel the Norman castle ruins on that spectacular headland that the pounding Atlantic waves will soon make an island. Here they say lies Merlin's cave and this was King Arthur's home. You finish the walk at Tintagel. Cornwall's mild climate ensures that this walk can be done at any time of the year, while remaining not too hot for summer walking.
You stop in country hotels, inns and guesthouses along the way, where accommodation is available in twin, double or single rooms, most but not all with private facilities. Bed and Breakfast accommodation. Your luggage will be transported between the overnight stays.
Sample schedule
START: Bude is 20 miles from Launceston on the North Cornwall Coast.
Are you staying in a City before or after your tour and looking for Accommodation.
FINISH: Tintagel is about 12 miles north of Bodmin.
DAY ONE. You can arrive at the guesthouse at any time after 3pm. If you think you will arrive later than 6pm please advise the hotel direct. There are several inns and pubs where you can obtain dinner. These are usually served from 7pm - 9pm. Overnight at Bude, Cornwall, England.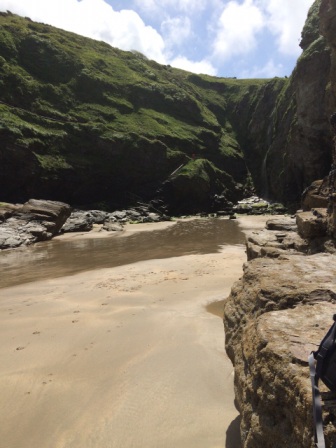 DAY TWO: Walking from Bude to Crackington Haven. 10 miles (16km) and 1,800 feet of ascent. Past the sandy beach of Widemouth Sand and on through Millook you then ascend the higher cliffs to finish at the harbour at Crackington Haven. (As there is very little accommodation in Crackington Haven, we will often shuttle you to Crackington Haven and you will walk to Bude for a second night. And on the next day shuttle you back to Crackington Haven and you will continue on to Boscastle). Overnight near Crackington Haven, Cornwall, England.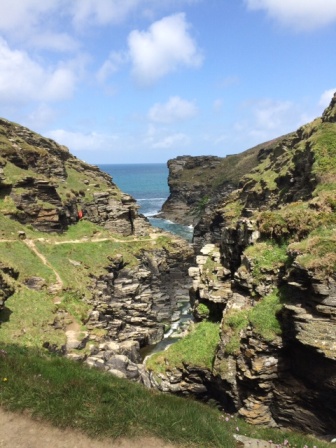 DAY THREE: Walking from Crackington Haven to Boscastle. 7 miles (11km) and 1,200 feet of ascent. Out to the rocky headland of Cambeak and then past many little sandy coves with strange names like The Strangles, Voter Run and Rusey Beach to finish at the National Trust harbour at Boscastle. There are several inns and pubs where you can obtain dinner. These are usually served from 7pm - 9pm. Overnight at Boscastle, Cornwall, England.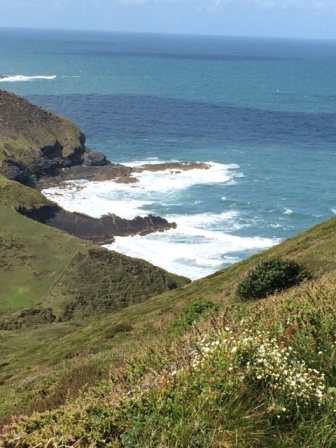 DAY FOUR: Walking from Boscastle to Tintagel. 7 miles (11km) and 1,600 feet of ascent. A pleasant short day, although with some steep hills. A chance at the end of the walk to visit Tintagel Castle with its legendary Arthurian connections. There are several inns and pubs where you can obtain dinner. These are usually served from 7pm - 9pm. Overnight at Tintagel, Cornwall, England.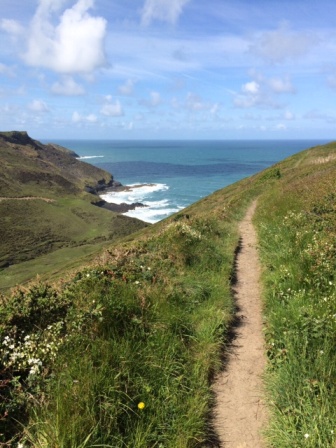 DAY FIVE: Departure. The tour finishes after breakfast from Tintagel with taxi transfer to Bodmin Parkway.
Travel Description
NOTE: it takes a full day to travel from London or Heathrow to Cornwall. If you are travelling from anywhere else it is best to overnight in London.
RAIL TRAVEL from LONDON to EXETER ST DAVIDS (NOT included in tour price): London Paddington and Exeter St Davids are the nearest rail stations. Served by hourly trains from London (Paddington), the journey takes 2.5 hours. Presently the 11:33 from London arrives Exeter St Davids 13:48. The next is at 12:33 which arrives 15:24.
TRAVEL from EXETER ST DAVIDS to BUDE: (NOT included in tour price). The local bus service X9 operated by South-Western National leave Exeter St David rail station at 11:30, 13:30, 15:45 and arrive Bude just under 2 hours later.
TRAVEL from TINTAGEL to BODMIN PARKWAY: (included in tour price) Bodmin Parkway is the nearest Rail Station. Taxi transfer from Tintagel toBodmin Parkway station.
TRAVEL from BODMIN PARKWAY to LONDON: (NOT included in tour price). Bodmin Parkway and London Paddington are the nearest Rail Stations. Presently the 11:00am from Bodmin Parkway arrives London Paddington at 14:47pm. The next is at 11:38am which arrives 16:08pm (change Plymouth).
Tour Start Location
Why book with us?
We've got 30+ years of walking tour experience
Only the very best handpicked tours at competitive prices
We work with you to create the perfect holiday. Just ask!
Useful Links
If you can't see exactly what you want and we are unable to adjust our tour shown here - Google may be able to help !
Custom Search
Tours to suit
If you want to book this walking tour, or chat about an altered schedule, please use the 'Enquire Now' tab above or contact us on philip@explorebritain.com
Related Categories
Tour Code:
FH04
Options
Discount rail tickets to Exeter St Davids and from Bodmin Parkway.
Grade
C
Grade Description
GRADE C: Between 9 - 12 miles (14 - 19kms) a day (the occasional day may be shorter or longer than these depending on location of suitable accommodation). Strong waterproof walking boots are desirable. A strong waterproof Jacket and overtrousers are recommended to protect you from rain and cold winds. This tour goes through some areas of remote habitation, and high mountains. You will do up to 2500 feet of ascent and/or descent a day. You will be walking through Farms and walking on Trackless Moorland. You will start walking about 9:30am and finish at approx. 5pm.
For safety reasons, you must be extremely proficient if you intend to walk alone. We strongly suggest against this. Ask yourself can you walk for hours, in driving rain and low visibility, confident in your map reading skills and morale boosting abilities? A friend in need is almost essential.
These grades are for guidance only. For any grade, depending on weather conditions, it may at times be damp underfoot, so waterproof boots are preferable.