Hike the South Downs Way from Eastbourne to Winchester
Tour Period
Start Any Day February to November
Description of Twin/Double
Most accommodation in Britain is charged on a Per Person basis (rather than per room basis). The price you see here for this tour is the Price per Person.
If you request a Twin Room there are two single beds (usually 3 feet wide) in the room.
If you request a Double Room there is one bed in which two people usually sleep (usually 4 feet 6inches wide).
Both the Double and the the Twin room are sometimes available for Single Occupancy (one person in the room), usually with a supplement to compensate the provider who would normally have received payment from two people.
If the accommodation offers Single rooms (one bed of 3 feet wide), this will normally be priced higher than half of a double or twin room. Unless space is limited in the village or accommodation we usually avoid these as the rooms tend to be older and less space to move about.
Tour description
An eight centre inn-to-inn, self-guided walking tour on the South Downs Way from Eastbourne in Sussex to Winchester in Hampshire in England. 8 nights bed and breakfast accommodation, 7 days walking, luggage transfer, guide book and maps.
This Explore Britain tour along the South Downs Way starts from the seaside town of Eastbourne and winds over downs (hills!), into green river valleys and through picturesque villages. For the most part it follows the ridge of the South Downs over an easy blend of flint and chalk. Quick access to villages and resorts makes the Way a good family walk, and it also provides long stretches of easy solitude. It is easily accessible by public transport throughout its length and is therefore suited to those who just want to do a few days, and come back later to do a bit more! You stop in Tourist Board recommended guest or farmhouses or hotels along the way, where accommodation is available in twin, double and single rooms, most but not all with private facilities. B&B and luggage transfer between the overnight stays is inclusive.
Sample schedule
START: Eastbourne is 77 miles south of London on the south coast.
FINISH: Winchester is just 14 miles north of Southampton.
DAY ONE: Arrival at Eastbourne. You may arrive anytime after 3pm. If requiring dinner this is usually between 7pm - 9pm both in restaurants (booked in advance) and pubs. Overnight Eastbourne, Sussex, England.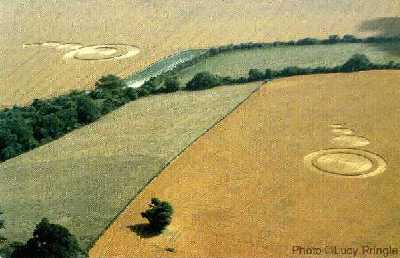 DAY TWO: Hike from Eastbourne to Alfriston. 11 miles (17km). The way begins with a spectacular stretch of coastal walking. A steep climb from Eastbourne to the promontory of Beachy Head is rewarded with an exhilarating seascape across the Seven Sisters cliffs. Then the Way turns inland to Alfriston via Cuckmere Haven and Friston Forest, Westdean and Litlington, which has one of the smallest churches in England. Dinner can be taken at the pub in the village (not included in tour price). Overnight Alfriston, Sussex, England.
DAY THREE: Hike from Alfriston to Clayton. 20 miles (32km). The path from Alfriston rises to Firle Beacon, with its huge barrow (pre-historic grave) and fine views, before descending to the Ouse Valley and Southease. A long rise up to Swanborough Hill. Between Newmarket Hill and Clayton there is wooded and downland scenery. On Ditchling Beacon, the Weald stretches out below, the path continuing west to Devils Dyke via the Jack and Jill windmills at Clayton. Dinner can be taken at the pub in the village (not included in tour price). Overnight Clayton, Sussex, England.
DAY FOUR: Hike from Clayton to Bramber. 10 miles (16km). After rising again to the ridge from Clayton you then descend to Pyecombe, where shepherds crooks were made in the old forge. Between Pyecombe and Devils Dyke there is a magnificent view west towards Chanctonbury Ring. The Dyke is said to be part of a ditch dug by the devil inland to flood the churches of the Weald. At Breeding Hill you will see the signpost erected by the Society of Sussex Downsmen to commemorate their Diamond Jubilee in 1973. From Breeding the way crosses the River Adur and strikes north to Bramber. Dinner can be taken at the pub in the village (not included in tour price). Overnight Bramber, Sussex, England.
DAY FIVE: Hike from Bramber to Amberley. 14 miles (23km). Now the route continues across the rim of Annington Hill, where there is good escarpment walking. After farmland, you finally arrive at Chanctonbury Ring with an Iron Age earthwork encircling a beechwood. From Kithurst Hill the flint track leads over Rackham Hill to Amberley Mount above the Arun Valley. The Path falls to the river where you are only 3 miles from Arundel with its castle and 1,100 acre park. Dinner can be taken at the pub in the village (not included in tour price). Overnight Amberley, Sussex, England.
DAY SIX: Hike from Amberley to Charlton. 14 miles (22km). From the river climb to Houghton, which has a 13th century church, over Bury and Wesburton Hills to the heights above Bignor. This village is well worth a detour, for it has one of the largest Roman villas in Britain, with fine mosaic floors. After Bignor the Way becomes more wooded, the ground stony, and there is a fairly stiff climb through fields to Littleton Down, at 837 feet the highest point of the walk. You descend down off the ridge to your accommodation for the night. Dinner can be taken at the pub in the village (not included in tour price). Overnight Charlton, Sussex, England.
DAY SEVEN: Hike from Charlton to East Meon. 23 miles (37km). A Long day today. Return to the ridge and you are now almost on the last stretch, and the going is becoming easier and more enclosed, wooded, with clay, not chalk, underfoot. Ascend over Beacon Hill and Tower Hill and you go through the Queen Elizabeth Country Park before crossing Tegdown Hill and slipping off the Way past Hen Wood to East Meon. Dinner can be taken at the pub in the village (not included in tour price). Overnight East Meon, Hampshire, England.
DAY EIGHT: Hike from East Meon to Winchester. 19 miles (30km). Another long day today. Enjoy the views, with Chichester Harbour and the cathedral just visible. A good climb up onto Old Winchester hill with its Iron Age Fort before dropping down and back up again to Beacon Hill. The South Downs Way now crosses farmland before making for Cheesefoot Head and descends to Chilcomb and Winchester. Dinner can be taken at any restaurant or pub in the town (not included in tour price). Overnight Winchester, Hampshire, England.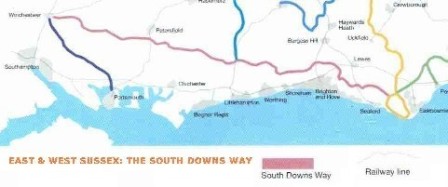 DAY NINE: Departure. The tour finishes from Winchester after breakfast.
Travel Description
RAIL TRAVEL from LONDON to EASTBOURNE (NOT included in tour price): There are regular trains from London to Eastbourne. Presently the 15:47pm from London Victoria arrives Eastbourne at 17:13pm.
RAIL TRAVEL from WINCHESTER to LONDON (NOT included in tour price): There are regular trains from Winchester to London. Presently the 10:18am from Winchester arrives London Waterloo at 11:24am.
Tour Start Location
Why book with us?
We've got 30+ years of walking tour experience
Only the very best handpicked tours at competitive prices
We work with you to create the perfect holiday. Just ask!
Useful Links
If you can't see exactly what you want and we are unable to adjust our tour shown here - Google may be able to help !
Custom Search
Tours to suit
If you want to book this walking tour, or chat about an altered schedule, please use the 'Enquire Now' tab above or contact us on philip@explorebritain.com
Related Categories
Options
Discount rail tickets to Eastbourne and from Winchester.
Grade
B
Grade Description
GRADE B: Between 8.5 - 20.5 miles a day (the occasional day may be shorter or longer than these depending on location of suitable accommodation). Strong waterproof hiking boots are desirable. A strong waterproof Jacket and overtrousers are recommended to protect you from rain and cold winds.
This tour goes through some areas of remote habitation, and high mountains. On some days you may have up to 4500 feet of ascent and/or descent. You will be walking through Farms & on Trackless Moorland. You will start hiking about 9:30am and finish at approx. 6pm.
You MUST be very fit to achieve your goal to go Coast to Coast. You MUST also have good map reading skills because the route is not waymarked or, at times, very visible on the ground. The mountains can be shrouded in mist or rain, and you MUST be prepared for this.
For safety reasons, you must be extremely proficient if you intend to hike alone. We strongly suggest against this. Ask yourself can you hike for hours, in driving rain and low visibility, confident in your map reading skills and morale boosting abilities? A friend in need is almost essential.
These grades are for guidance only. For any grade, depending on weather conditions, it may at times be damp underfoot, so waterproof boots are preferable.