New Trailblazer Route Guide to the Thames Path
11 May 2015
The NEW 2015 1st Edition Trailblazer guide to Thames Path is now available. 2015. Our Thames Path self-guided walking tours are included on Page 26.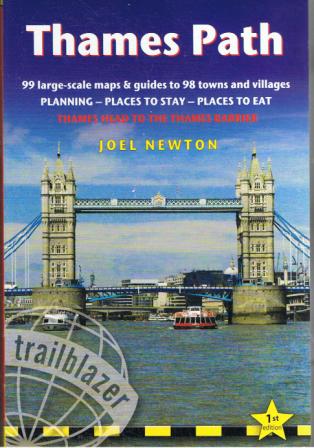 The Thames Path is a national trail that runs for 184 miles (294km) from the river's source at Thames Head near Kemble in the Cotswolds to the Thames Barrier in London. The scenery is magnificently varied ranging from wild and lonely sections of the upper reaches of the river to equally impressive urban vistas in London. Passing so many ancient sites – Oxford, Lechlade, Abingdon, Henley, Runnymede, Windsor and through the center of London – this is as much a walk through history as an easy ramble along a river bank. This Thames Path trailblazer book includes route guide and maps plus accommodation, pubs and restaurants in detailed guides to 98 towns and villages.

About the Publisher Visit the Trailblazer website. Free postage on all orders. You can locate more excellent guidebooks suitable for walking and hiking.