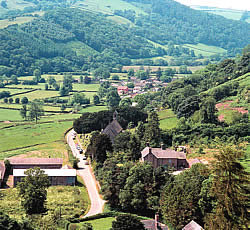 Walk Along the Offas Dyke Path in Border Wales from Welshpool to Knighton
Tour Period
Start Any Day February to November
Description of Twin/Double
Most accommodation in Britain is charged on a Per Person basis (rather than per room basis). The price you see here for this tour is the Price per Person.
If you request a Twin Room there are two single beds (usually 3 feet wide) in the room.
If you request a Double Room there is one bed in which two people usually sleep (usually 4 feet 6inches wide).
Both the Double and the the Twin room are sometimes available for Single Occupancy (one person in the room), usually with a supplement to compensate the provider who would normally have received payment from two people.
If the accommodation offers Single rooms (one bed of 3 feet wide), this will normally be priced higher than half of a double or twin room. Unless space is limited in the village or accommodation we usually avoid these as the rooms tend to be older and less space to move about.
Tour description
A four centre inn-to-inn, self-guided walking tour along Offas Dyke from Welshpool to Knighton in Mid-Wales. 4 nights bed and breakfast accommodation, 3 days walking, luggage transfer, guide book and maps.
Built in the late 8th century by Offa, that most powerful of Mercian kings, this remarkable earthwork Offas Dyke was intended to mark the boundary and to keep the marauding Welsh in the mountains to the west. It now gives grand views over the surrounding varied and tranquil countryside.
This Explore Britain tour starts and ends at a town with a rail station, giving easy access to those without a car. From the small town of Welshpool this 4 night tour traverses quiet hill country laced with ancient paths, climbing to nearly 1500 feet before descending to cross River Teme at Knighton. The Dyke meanders over bracken-clad hills and has villages and towns that deserve spending some time exploring. You stop in farmhouses, country hotels, inns and guesthouses along the way, where accommodation is available in twin, double or single rooms, most but not all with private facilities. B&B and luggage transfer between the overnight stays is inclusive.
Sample schedule
START: Welshpool is 21 miles west of Shrewsbury in Mid Wales.
FINISH: Knighton is 22 miles south-west of Hereford in Mid Wales.
DAY ONE: Arrival at Welshpool. You may arrive anytime after 3pm. If requiring dinner this is usually between 7pm - 9pm both in hotels (booked in advance) and pubs. Overnight Welshpool, Powys, Mid-Wales.
DAY TWO: Walking from Welshpool to Montgomery. 13.25 miles (21.2km) and 1,400 feet of ascent. A longish but fairly easy day with only one steep ascent. You rejoin Offas Dyke on the ridge first through woodland and then parkland and farmland. You then divert from the path to stay in the historic town of Montgomery. Overnight Montgomery, Powys, Mid-Wales.
DAY THREE: Walking from Montgomery to Newcastle on Clun. 11.25 miles (18km) and 1,500 feet of ascent. This is one of the harder days of the tour involving some steep ups and downs through remote sheep farming land. Dinner can be taken at the pub in the town (not included in tour price). Overnight Newcastle on Clun, Powys, Mid-Wales.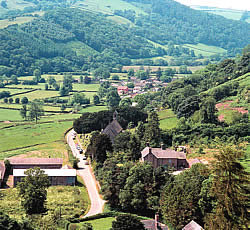 DAY FOUR: Walking from Newcastle on Clun to Knighton. 8.25 miles (13.2km) and 1,200 feet of ascent. A fairly short day but with a fair amount of climbing. Today has the best section of Offas Dyke along the whole route. You drop down to Knighton, with its Offas Dyke Visitor Centre. Dinner can be taken at any of the pubs in the town (not included in tour price). Overnight Knighton, Powys, Mid-Wales.
DAY FIVE: Departure. The tour finishes from Knight after breakfast.
Travel Description
RAIL TRAVEL from LONDON to WELSHPOOL (NOT included in tour price): The nearest rail station is Welshpool. There is an infrequent train service from London (Euston) usually with one change. The journey takes about 4 hours. Presently the 12:15pm arrives 15:47pm (change Birmingham New Street); the 14:15pm arrives 17:47pm.
RAIL TRAVEL from KNIGHTON to LONDON (NOT included in tour price): The nearest rail station is Knighton served by infrequent trains to London (Euston). Presently the 07:49am train arrives 11:50am (change at Birmingham). The next is at 12:10pm which arrives 16:17pm (change Crewe).
Tour Start Location
Why book with us?
We've got 30+ years of walking tour experience
Only the very best handpicked tours at competitive prices
We work with you to create the perfect holiday. Just ask!
Useful Links
If you can't see exactly what you want and we are unable to adjust our tour shown here - Google may be able to help !
Custom Search
Tours to suit
If you want to book this walking tour, or chat about an altered schedule, please use the 'Enquire Now' tab above or contact us on philip@explorebritain.com
Related Categories
Options
Discount rail ticket to Welshpool and from Knighton.
Grade
C
Grade Description
GRADE C: Between 9 - 12 miles (14 - 19kms) a day (the occasional day may be shorter or longer than these depending on location of suitable accommodation). Strong waterproof walking boots are desirable. A strong waterproof Jacket and overtrousers are recommended to protect you from rain and cold winds. This tour goes through some areas of remote habitation, and high mountains. You will do up to 2500 feet of ascent and/or descent a day. You will be walking through Farms and walking on Trackless Moorland. You will start walking about 9:30am and finish at approx. 5pm.
For safety reasons, you must be extremely proficient if you intend to walk alone. We strongly suggest against this. Ask yourself can you walk for hours, in driving rain and low visibility, confident in your map reading skills and morale boosting abilities? A friend in need is almost essential.
These grades are for guidance only. For any grade, depending on weather conditions, it may at times be damp underfoot, so waterproof boots are preferable.