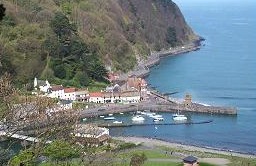 Walk Somerset Devon Coast from Minehead to Combe Martin
Tour Period
Providing no further outbreaks of Coronavirus, I will be offering this tour to book from April 2022.
Description of Twin/Double
Most accommodation in Britain is charged on a Per Person basis (rather than per room basis). The price you see here for this tour is the Price per Person.
If you request a Twin Room there are two single beds (usually 3 feet wide) in the room.
If you request a Double Room there is one bed in which two people usually sleep (usually 4 feet 6inches wide).
Both the Double and the the Twin room are sometimes available for Single Occupancy (one person in the room), usually with a supplement to compensate the provider who would normally have received payment from two people.
If the accommodation offers Single rooms (one bed of 3 feet wide), this will normally be priced higher than half of a double or twin room. Unless space is limited in the village or accommodation we usually avoid these as the rooms tend to be older and less space to move about.
Tour description
A five centre inn-to-inn, village-to-village self-guided walking tour in England on the Somerset and Devon Coast Path from Minehead in Somerset to Combe Martin in Devon, England.
5 nights bed and breakfast, 4 days walking, luggage transfer and taxi transfer from Combe Martin to Barnstaple rail station on the final morning.
On this Explore Britain walking tour you will see a coast of contrasts; from the 1,000 foot sea cliffs at Countisbury Head to the broad curve of Porlock Beach and from the stark towers of the Valley of the Rocks to the spaghetti windings of the East Lyn valley. Here the open heathery moors of the Exmoor National Park tumble down to the sea in secret woodlands where the red deer hide. Here too the rose-embowered thatched cottages of Selworthy and Bossington epitomise the English village, clustered around the green or straggling higgledy-piggledy alongside the stream. You start your walk at Minehead and will be walking part of the South West Coast Path westwards, with time to stop for a cream tea or explore one of the tiny isolated churches that are such a feature of the area. Culbone Church is reputed to be Englands smallest and at the nearby Oare Church Lorna Doone was shot at her wedding by her uncle. You will walk from one seaside village to another, all a delight to see. The walking tour finishes at the delectable seaside resort of Combe Martin.
You stop in guesthouses, country hotels and inns along the way, where accommodation is available in twin, double or single rooms all with private facilities. B&B, luggage transfer and a taxi from Combe Martin to Barnstaple rail station are included in the tour price.
Sample schedule
START: Minehead is 25 miles NW of Taunton on the Somerset Coast.
Are you staying in a City before or after your tour and looking for Accommodation.
FINISH: Barnstaple is on the northwest Devon coast.
DAY ONE: At Minehead. You may arrive anytime after 3pm. There are many places for an evening meal from restaurants to local pub grub. Overnight at Minehead, Somerset, England.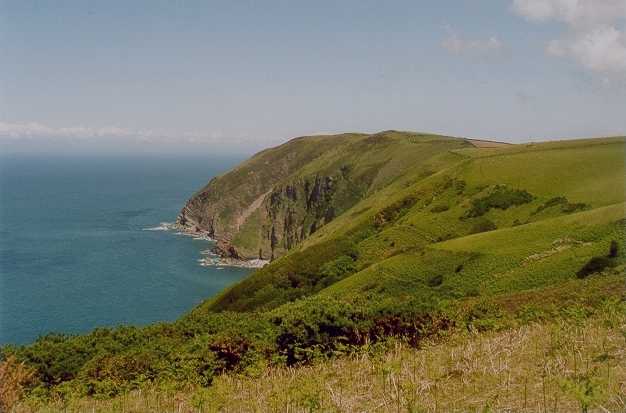 DAY TWO: Walking from Minehead to Porlock. 9 miles (14km) and 1,200 feet of ascent. You walk up through the old town of Minehead you traverse along the gorse and heather moors looking out across the Bristol Channel. You then drop down to the famed thatched roof buildings of Selworthy and Bossington. You arrive into the pretty town of Porlock. There are many places for an evening meal from restaurants to local pub meals. Overnight at Porlock, Somerset, England.

DAY THREE: Walking from Porlock to Lynmouth. 10 miles (16km) and 1,300 feet of ascent. You take the coastal path back to the sea at Porlock Weir. Today you walk across the boundary from Somerset into Devon, passing the isolated Culbone church. Your path now has fantastic views out over the Bristol Channel towards Wales. You finish the walk at the tiny harbour at Lynmouth alongside the babbling River Lyn. There are many places for an evening meal from restaurants to local pub food. Overnight at Lynmouth, Devon, England.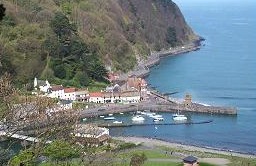 DAY FOUR: Walking from Lynmouth to Heddon Valley. 10 miles (16km) and 500 feet of ascent. A much easier walk today, so it is possible to relax and look around Lynmouth before you take the water powered cliff railway up to Lynton (easier than walking!) and then its along the Valley of the Rocks, with its cream tea cottages past Lee Abbey. You finish the walk by strolling through the oak woods to arrive at the remote Heddon Valley. Overnight at Heddon Valley, Devon, England.
DAY FIVE: Walking from Heddon Valley to Combe Martin. 10 miles (16km) and 2,000 feet of ascent. Although this is not a long walk, it has a lot of ups and downs. This walking section is often "voted" the prettiest in England, and it starts off by following an old grassy rail-bed from Woody Bay to Hunters Inn. Little Trentishoe church beckons you from the Inn and then it's across Holdstone Down (on which space ships have been sighted!). You walk down to the hamlet of Combe Martin where your accommodation is now a very short walk away. There are nearby inns in the village for your "din at the inn", or you could even try our famous fish and chips. Overnight at Combe Martin, Devon, England.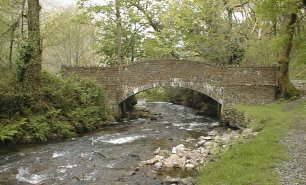 DAY SIX: Departure. The tour finishes from Combe Martin after breakfast, with transfer to Barnstaple rail station (included in tour price).
Travel Description
RAIL TRAVEL from LONDON to TAUNTON (NOT included in tour price): London Paddington and Taunton are the nearest rail stations. There is a train service every hour from London (Paddington). Presently the 10:15am arrives 12:45pm (change Bristol Temple Mead).
TRAVEL from TAUNTON to MINEHEAD (NOT included in tour price): There is a connecting bus service to Minehead where you may require a local taxi to your accommodation. Taxis are also available from the station.
RAIL TRAVEL from BARNSTAPLE to LONDON (NOT included in tour price): The 10:10am train from Barnstaple arrives London 13:50pm (change Exeter St David).
Tour Start Location
Why book with us?
We've got 30+ years of walking tour experience
Only the very best handpicked tours at competitive prices
We work with you to create the perfect holiday. Just ask!
Useful Links
If you can't see exactly what you want - Google may be able to help !
Custom Search
Tours to suit
If you want to book this walking tour, or chat about an altered schedule, please use the 'Enquire Now' tab above or contact us on philip@explorebritain.com
Related Categories
Tour Code:
DU05
Options
Discount rail tickets to Taunton and from Barnstaple.
Grade
C
Grade Description
GRADE C: Between 9 - 12 miles (14 - 19kms) a day (the occasional day may be shorter or longer than these depending on location of suitable accommodation). Strong waterproof walking boots are desirable. A strong waterproof Jacket and overtrousers are recommended to protect you from rain and cold winds. This tour goes through some areas of remote habitation, and high mountains. You will do up to 2500 feet of ascent and/or descent a day. You will be walking through Farm and walking on Trackless Moorland. You will start walking about 9:30am and finish at approx. 5pm.
For safety reasons, you must be extremely proficient if you intend to walk alone. We strongly suggest against this. Ask yourself can you walk for hours, in driving rain and low visibility, confident in your map reading skills and morale boosting abilities? A friend in need is almost essential.
These grades are for guidance only. For any grade, depending on weather conditions, it may at times be damp underfoot, so waterproof boots are preferable.