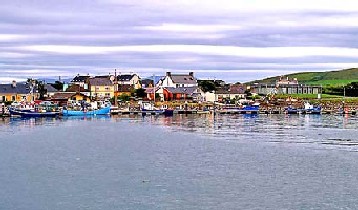 Walk the Dingle Way from Tralee to Dingle in County Kerry Ireland
Tour Period
Start any day April to November
Description of Twin/Double
Most accommodation in Britain is charged on a Per Person basis (rather than per room basis). The price you see here for this tour is the Price per Person.
If you request a Twin Room there are two single beds (usually 3 feet wide) in the room.
If you request a Double Room there is one bed in which two people usually sleep (usually 4 feet 6inches wide).
Both the Double and the the Twin room are sometimes available for Single Occupancy (one person in the room), usually with a supplement to compensate the provider who would normally have received payment from two people.
If the accommodation offers Single rooms (one bed of 3 feet wide), this will normally be priced higher than half of a double or twin room. Unless space is limited in the village or accommodation we usually avoid these as the rooms tend to be older and less space to move about.
Tour description
A five centre inn-to-inn, village to village, self-guided walking tour along the Dingle Way in County Kerry, Ireland. Tralee to Dingle. 6 nights bed and breakfast in approved en-suite accommodation, 5 days walking, luggage transfer, walking notes and maps.
You walk for 5 days following the waymarked Dingle Way and connecting trails in County Kerry from Tralee to Dingle Town, some 47 miles in all. Along green lanes lined with Fuchsia hedges; past peat cuttings and Celtic monuments, this low-level route crosses the Dingle peninsula that juts out into the Atlantic. Your route meanders along the foot of the Slieve Mish mountains, through a landscape of tiny green fields and scattered cottages. Every corner has a story, from the ancient sagas of Irelands mythological hero Cuchulainn to the modern folk tales of Kerry writer John B Keane, and in the Irish west there is always time for a tale or a chat. On one day you walk from pub to pub; on another from mountains to a rocky beach with half buried Ogham stones and on another from `Sweet Annascaul' to `Delightful Dingle Town'.
You stop in 5 Irish Tourist Board recommended guest or farmhouses along the way, where accommodation is available in twin, double or single rooms, all with private facilities. Bed and breakfast and luggage transfer between the overnight stays is inclusive.
We can also include extra nights in Tralee or Dingle, allowing you to visit the beehive huts, Ogham stones, oratories and churches that abound around the bay, and to enjoy the wealth of traditional Irish folk music available in Dingles pubs.
Sample schedule
START: Tralee is about 15 miles north-west of Killarney in County Kerry.
FINISH: Dingle is about 30 miles south west of Tralee, in County Kerry.
ARRIVAL DAY: At Tralee. You may arrive anytime after 3pm. Overnight at Tralee, County Kerry.
WALKING DAY ONE: Circular around Tralee. 11 miles (18km) and 50 feet of ascent. It is an easy coastal walk and follows the nature reserve on the mud flats and the old Ship Canal. There are easy alternatives and time to spend in Tralee. Overnight at Tralee, County Kerry.
WALKING DAY TWO: Tralee to Camp. 9 miles (14km) and 400 feet of ascent. An easy bogland walk along the base of the Slieve Mish mountains. You should take the steam train to Blennerville, from where you start your walk. You will pass Killelton church with its Cross-Inscribed Stone. You can finish at Ashes pub with a pint of stout! Overnight at Camp, County Kerry.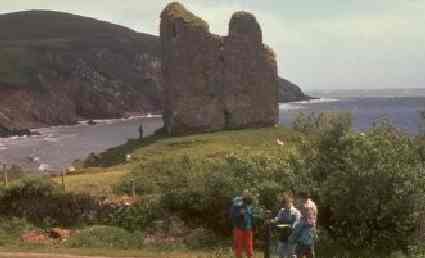 WALKING DAY THREE: Camp to Annascaul. 10 miles (16km) and 1,300 feet of ascent. An easy walk through peat cuttings and along quiet fuchsia lined lanes. You meet the sea at Inch Strand and gradually climb up to Maum gap, at 800 feet the highest point of the holiday and drop down to Annascaul. Overnight Annascaul, County Kerry.
WALKING DAY FOUR: Annascaul to Lisdargan. 9 miles (14km) and 300 feet of ascent. You start your walk from the "The South Pole" in the morning. You then follow quiet lanes and roads out to the coast again with Minard Castle standing over the stony Kilmurry Bay. Past the Ogham Stone at Aglish Graveyard and after a pint of Guinness at Garrynadur you are at Lisdargan. Overnight at Lisdargan, County Kerry.
WALKING DAY FIVE: Lisdargan to Dingle Town. 5 miles (8km) and 700 feet of ascent. The luggage will have been moved during the day from Lisdargan to Dingle. An easy day, following footpaths through farms and the old famine road from the Connor Pass to finish at Dingle Town. There is an optional extra 5-mile (a little tougher route) walk from Dingle and back to see some ancient stones and churches. In total about 200 feet of ascent on this section. Overnight at Dingle, County Kerry.
FINAL DAY: Departure. The tour finishes from Dingle after breakfast.
Travel Description
TRAVEL SHANNON AIRPORT to LIMERICK (from where buses are available to Killarney):
TRAVEL to TRALEE (NOT included in tour price): Tralee is the nearest rail station. There are currently 3 suitable trains a day from Dublin, Cork or Limerick (for flights into Shannon airport). If arriving at Shannon airport you can easily use the bus network. Take a taxi to Limerick Bus Station, from where the 09:00am bus arrives Tralee about 10:30am. Tralee rail station has lockers for luggage. You will need a taxi to your guesthouse but please do NOT arrive before 1pm (the guesthouse may be moving luggage and preparing the rooms for a change over).
RETURN from DINGLE (NOT included in tour price): Tralee is the nearest rail station. If you require it, you will be assisted by the final guesthouse into town to catch the 10:30am bus which arrives Tralee at 12:05pm.
ARRIVING BY CAR: Please ask for details. Return is not included in tour price.
ARRIVING and DEPARTING by EUROLINES or NATIONAL EXPRESS COACH: This is by far the cheapest option for long-distance travel in England, Scotland, and Wales. There are very convenient buses from each major airport. National Express carries over 16 million passengers to 1000 different places in the UK every year, and thousands more from destinations across Europe and Ireland. You can purchase an e-Ticket where you print your travel ticket online in a matter of minutes OR you can obtain an m-Ticket and have your travel ticket sent to your mobile phone - no paper ticket required. You then present this to the driver on arrival.
Principal airports of Ireland.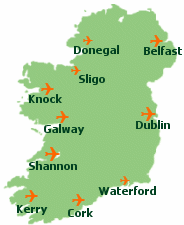 Tour Start Location
Why book with us?
We've got 30+ years of walking tour experience
Only the very best handpicked tours at competitive prices
We work with you to create the perfect holiday. Just ask!
Useful Links
If you can't see exactly what you want - Google may be able to help !
Custom Search
View our new and used travel books and maps of Ireland
Irish Ordnance Survey Map Tralee and Annascaul.
Irish Ordnance Survey Map Dingle and Slea Head.

Tours to suit
If you want to book this walking tour, or chat about an altered schedule, please use the 'Enquire Now' tab above or contact us on philip@explorebritain.com
Related Categories
Tour Code:
EA06
Grade
D
Grade Description
GRADE E: Between 6 - 9 miles (10 - 14kms) a day (the occasional day may be shorter or longer than these depending on location of suitable accommodation). Light Waterproof walking boots are desirable. A strong waterproof Jacket and overtrousers are recommended to protect you from rain and cold winds. No more than 1000 feet ascent and/or descent a day. Footpaths through farmland. You will start walking about 9:30am and finish at approx. 4pm.
These grades are for guidance only. For any grade, depending on weather conditions, it may at times be damp underfoot, so waterproof boots are preferable.