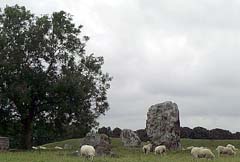 Walk the Ridgeway Path from Avebury in Wiltshire to Goring on Thames
Tour Period
Start Any Day February to November
Description of Twin/Double
Most accommodation in Britain is charged on a Per Person basis (rather than per room basis). The price you see here for this tour is the Price per Person.
If you request a Twin Room there are two single beds (usually 3 feet wide) in the room.
If you request a Double Room there is one bed in which two people usually sleep (usually 4 feet 6inches wide).
Both the Double and the the Twin room are sometimes available for Single Occupancy (one person in the room), usually with a supplement to compensate the provider who would normally have received payment from two people.
If the accommodation offers Single rooms (one bed of 3 feet wide), this will normally be priced higher than half of a double or twin room. Unless space is limited in the village or accommodation we usually avoid these as the rooms tend to be older and less space to move about.
Tour description
A five centre inn-to-inn, self-guided walking tour along the Ridgeway Path from Avebury in Wiltshire to Goring on Thames in Berkshire, England. 6 nights bed and breakfast accommodation, 5 days walking, luggage transfer, guide book and maps.
This Explore Britain Wessex Ridgeway walking tour is the section of that ancient pathway following the line of a chalk escarpment that extends for 40 miles from Avebury in Wiltshire, with its famous stone circle, down to Goring on the mighty River Thames in Berkshire. On a route of truly ancient origins it should not be surprising to find such an abundance of evidence of early occupation. Bronze Age and early Iron Age have left a remarkable legacy in the form of religious monuments, fortifications, habitations, burial places and agricultural systems. From the first steps it is clear that this is an ancient route.
You spend your first and second night within yards of the remarkable Avebury Stone Circle. You have a day to explore this fascinating village with its five round barrows visible from the path, and nearby are two long barrows and the markers of a stone circle known as the Sanctuary. Walking the Ridgeway path due north you head over Overton Hill along a broad downland track which winds and climbs the ridge of Hackpen Hill, then leads on to the Iron Age fortifications of Barbury Castle. Shortly the path passes close by Waylands Smithy, a chambered long barrow with a fascinating legend. White Horse Hill, on which Uffington Castle, takes its name from the remarkable, and ancient, chalk figure cut in it. A long and particularly beautiful stretch of downland path passes close by Segsbury camp and within hailing distance of Grims Ditch before walking into Streatley and Goring straddling the River Thames.
You stop in country hotels, inns and guesthouses along the way, where accommodation is available in twin, double or single rooms, all with private facilities. B&B and luggage transfer between the overnight stays is inclusive.
Sample schedule
START: Avebury is 9 miles southwest of Swindon in Wiltshire.
FINISH: Goring-on-Thames is about 14 miles south of Oxford.
DAY ONE: Avebury. You may arrive anytime after 3pm. Dinner can be taken at the inn in the village (not included in tour price). Overnight near Avebury, Wiltshire, England.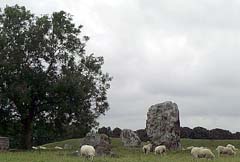 DAY TWO: Circular walk around Avebury. 6 miles and 300 feet ascent. You will follow The Ridgeway Long Distance Path onto Avebury Down. You will have time to look around Avebury Stone Circle, which pre-dates Stonehenge, and Silbury Hill and return back to Avebury for tea. Dinner can be taken at the inn in the village (not included in tour price). Overnight Avebury, Wiltshire, England.
DAY THREE: Walking from Avebury to Ogbourne St. George. 9 miles and 800 feet ascent. The path climbs to Overton Hill, Marlborough Downs and Hackpen Hill, then descends a lofty scarp and rises again to the Iron Age hill fort of Barbury Castle. A south turn along the scarp of Smeathes Ridge leads to the thatched village of Ogbourne St. George. Dinner can be taken at the inn in the village (not included in tour price). Overnight Ogbourne St George, Wiltshire, England.
DAY FOUR: Walking from Ogbourne St. George to Sparsholt. 10 miles and 700 feet ascent. The River Og is crossed at Southend, and the Ridgeway Path rises to 600 feet before reaching Round Hill Down. The walk through Iron Age earthworks brings views of the Cotswolds in the distance and Liddington Castle in the foreground. The next stretch, after Shepherds Rest inn, is lovely farm country over fox and Charlbury Hills, rising to 800 feet at Bishopstone. Two miles further on is Waylands Smithy, a Neolithic chambered long barrow thought to have been built at least 4,500 years ago. The next section brings dramatic walking with panoramic views, and the celebrated chalk-hill figure, the White Horse of Uffington, Dragon Hill and the Manger, a huge geological gouge in the earth. You drop down off the ridge to a small village nestling in the hillside. Dinner can be taken at the nearby inn in the village (not included in tour price). Overnight Sparsholt, Oxfordshire, England.
DAY FIVE: Walking from Sparsholt to Upton. 14 miles and 600 feet ascent. You return to the ridge and pass Segsbury Iron Age fort and Grims Ditch, an 8th century boundary mark. Dinner is taken at the inn in the village (not included in tour price). Overnight Upton, Oxfordshire, England.
DAY SIX: Walking from Upton to Streatley and Goring. 8 miles and 400 feet ascent. You return to the ridge and the Ridgeway is now wide and green, then wooded before Scutchamer Knob, a Saxon barrow on the Oxfordshire and Berkshire border. Dropping near Harwell and down Compton Downs, the path is less well defined. It is lovely country to Streatley and the Goring Gap. Dinner is taken at the nearby inns in the town (not included in tour price). Overnight Goring, Oxfordshire, England.
DAY SEVEN: Departure. The tour finishes at Goring after breakfast.
Travel Description
RAIL TRAVEL from LONDON to SWINDON and AVEBURY (NOT included in tour price): The nearest rail station is Swindon served by frequent trains from London Paddington. Service bus 49 operated by Thamesdown Transport operates between Swindon rail station and Avebury. The journey takes 30 minutes. Presently they depart at 6 minutes past each hour.
RAIL TRAVEL from GORING-ON-THAMES to LONDON (NOT included in tour price): The nearest rail station is Goring served by very frequent trains to London Paddington.
Tour Start Location
Why book with us?
We've got 30+ years of walking tour experience
Only the very best handpicked tours at competitive prices
We work with you to create the perfect holiday. Just ask!
Useful Links
If you can't see exactly what you want and we are unable to adjust our tour shown here - Google may be able to help !
Custom Search
Tours to suit
If you want to book this walking tour, or chat about an altered schedule, please use the 'Enquire Now' tab above or contact us on philip@explorebritain.com
Related Categories
Tour Code:
TR06
Options
Discount rail ticket to Swindon and from Goring-on-Thames.
Grade
D
Grade Description
GRADE D: Between 8 - 11 miles (13 - 18 kms) a day (the occasional day may be shorter or longer than these depending on location of suitable accommodation). Light Waterproof walking boots are desirable. A strong waterproof Jacket and overtrousers are recommended to protect you from rain and cold winds. No more than 1000 feet ascent and/or descent a day. Footpaths through farmland. You will start walking about 9:30am and finish at approx. 4pm.
These grades are for guidance only. For any grade, depending on weather conditions, it may at times be damp underfoot, so waterproof boots are preferable.
Locate weather forecasts on the BBC https://www.bbc.co.uk/weather/0/2641063 it becomes more accurate within 3 days.