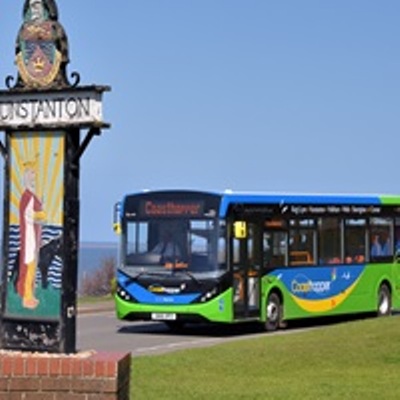 5 night Easy Walking using the hop-on-hop-off Bus Along the Norfolk Coast Path
Tour Period
Providing no further outbreaks of Coronavirus, I will be offering this tour to book from April 2022.
Description of Twin/Double
Most accommodation in Britain is charged on a Per Person basis (rather than per room basis). The price you see here for this tour is the Price per Person.
If you request a Twin Room there are two single beds (usually 3 feet wide) in the room.
If you request a Double Room there is one bed in which two people usually sleep (usually 4 feet 6inches wide).
Both the Double and the the Twin room are sometimes available for Single Occupancy (one person in the room), usually with a supplement to compensate the provider who would normally have received payment from two people.
If the accommodation offers Single rooms (one bed of 3 feet wide), this will normally be priced higher than half of a double or twin room. Unless space is limited in the village or accommodation we usually avoid these as the rooms tend to be older and less space to move about.
Tour description
A five centre inn-to-inn, easy self-guided walking using the hop-on-hop-off Coastal Bus along the Norfolk Coast Path between Hunstanton and Cromer in Norfolk, England. 5 nights bed and breakfast accommodation, 1 dinner, 4 days walking, luggage transfer, transfer from Kings Lynn rail station, guide book and maps.
The Norfolk Coast Path is a relatively new and a deliberately created way. It offers some fine walking, with some sections of bridleway, quiet roads and tracks. Beginning at the seaside resort of Hunstanton it follows the North Norfolk Heritage Coast. Within this officially designated Area of Outstanding Natural Beauty, history is never far away. The walk is a glorious patchwork of popular resorts and former ports, marl pits and agricultural land, cliffs and creeks, sailing centres and nature reserves.
The costal path connects some pretty villages. I will describe one or more short walks each day, which with the use of the hourly Coasthopper bus (a three day "hop-on hop-off" bus pass is available when your get on your first journey) you will be able to start and stop at one of these villages, where you like along the days route. The amount of walking and from where and to, I have left for you to determine on the day.
You stop in hotels and inns along the way, where accommodation is available in twin, double or single rooms, all with private facilities. Bed & breakfast. 1 dinner, luggage transfer between the overnight stays and taxi transfer from King's Lynn rail station.
Sample schedule
START: Hunstanton is in East Anglia, Norfolk, England.
Are you staying in a City before or after your tour and looking for Accommodation.
FINISH: Cromer is on the Norfolk Coast 23 miles north of Norwich, Norfolk, England.
DAY ONE: Arrival at Kings Lynn station and transfer to Hunstanton. We will arrange for you to be collected from the rail station and driven directly to the accommodation in Hunstanton. You may arrive anytime after 3pm. If you arrive early I would suggest a discovery walk into Old Hunstanton. Dinner is usually served between 6pm - 9pm both at your hotel and nearby pubs (not included in tour price). Overnight Hunstanton, Norfolk, England.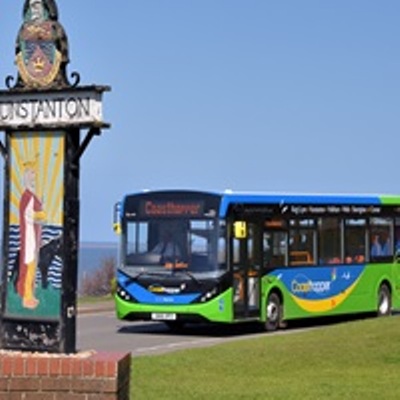 DAY TWO: Discover around Hunstanton. Walk from Old Hunstanton towards Brancaster (9.5 miles) and return on the Coasthopper Bus. You can walk out of the hotel and walk as far eastwards as you want today. The path connects with the Coasthopper bus at Thornham and Brancaster. They all have tea shops or quaint pubs to wait patiently for the Coasthopper to take you back to Hunstanton. Evening meals are available at your hotel or nearby pubs (not included in tour price). Overnight Hunstanton, Norfolk, England.
DAY THREE: Transfer from Hunstanton to Blakeney. Take the Coasthopper bus to Wells-next-the-Sea and walk to Blakeney (8 miles). Hop on the bus from almost outside the hotel and take it to Wells-next-the-Sea. The path connects with the Coasthopper bus at Stiffkey and Morston. They all have tea shops or quaint pubs from where you can catch the Coasthopper to take you to Blakeney. Here your final destination, narrow streets of cobbled cottages lead down to the quay, and homes huddle together in yards. Dinner is available at your inn or nearby pubs (not included in tour price). Overnight Blakeney, Norfolk, England.
DAY FOUR: Discover around Blakeney. Walk Blakeney to Sheringham (10 miles). You could wander around this old coastal village of Blakeney and perhaps take one of the local boat trips out to learn a little of the sea life in this area. Alternatively, follow the coast path eastwards through Cley next the Sea, Salthouse, Weybourne and finish at Sheringham. All have a pub or tea shop for a break, and the Coasthopper bus will bring you back to Blakeney.. Dinner is available at your inn or nearby pubs (not included in tour price). Overnight Blakeney, Norfolk, England.
DAY FIVE: Transfer from Blakeney to Cromer. Walk Sheringham to Cromer (6.5 miles). Time to take the Coasthopper to Sheringham with perhaps a ride on the Heritage Steam Railway. Your final walk will take you away from the coast and up to the highest point of the walk (at 335 feet) and the site of the Roman Camp. You descend into Cromer and finish at Cromer Pier. Dinner is served from 6pm and has been booked at your accommodation (included in price). Overnight Cromer, Norfolk, England.
DAY SIX: Departure. The tour finishes from Cromer after breakfast.
Travel Description
RAIL TRAVEL from LONDON to KINGS LYNN (NOT included in tour price): The nearest rail station is Kings Lynn served by frequent direct trains from London (Kings Cross). Presently the 12:45pm arrives 14:19pm (direct). The 13:45pm arrives 15:19pm (direct).
TRANSFER from KINGS Lynn to HUNSTANTON (included in tour price). We will arrange for you to be collected from King's Lynn rail station and taken directly to the hotel at Hunstanton.
COASTHOPPER "Hop-On Hop-Off" bus service (NOT included in tour price). You will use this excellent bus service along the coast to allow you to adjust the length of walks you want to do each day. A Three Day Saver ticket is available from the driver upon boarding the bus - you can then hop-on hop-off the service as many times as you like within the three days. Enjot the sightseeing as well as the best of the coastal walks.
RAIL TRAVEL from CROMER to LONDON (NOT included in tour price): The nearest rail station is Cromer served by frequent trains via Norwich to London (Liverpool Street). Presently the 09:43am train arrives 12:20pm (change at Norwich).
Why book with us?
We've got 30+ years of walking tour experience
Only the very best handpicked tours at competitive prices
We work with you to create the perfect holiday. Just ask!
Useful Links
If you can't see exactly what you want and we are unable to adjust our tour shown here - Google may be able to help !
Custom Search
Tours to suit
If you want to book this walking tour, or chat about an altered schedule, please use the 'Enquire Now' tab above or contact us on philip@explorebritain.com
Related Categories
Tour Code:
PD05
Options
Discount rail tickets to Kings Lynn and from Cromer.
Grade
F
Grade Description
GRADE F: Between 3 - 6 miles (5 - 10kms) a day (the occasional day may be shorter or longer than these depending on how much walking you want to do). Light Waterproof walking boots are desirable. A strong waterproof Jacket and overtrousers are recommended to protect you from rain and cold winds. No more than 100 feet ascent and/or descent a day. Footpaths through farmland and coastal dunes and beaches. You will start walking about 9:30am and finish at approx. 3pm.
These grades are for guidance only. For any grade, depending on weather conditions, it may at times be damp underfoot, so waterproof boots are preferable.