Sightseeing Tours
We've got a great selection of sightseeing tours available. If you'd like some advice on the best places or times to go please don't hesitate to contact us.
1 sightseeing tour found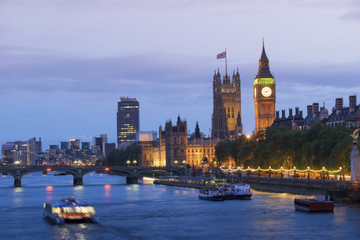 If you have time before or after your self-guided walking tour choose from over 200 hotels in CENTRAL LONDON. The UK' s number one destination for shopping breaks, theatre shows, the finest restaurants and top attractions - the capital has it all. Choose from our superb range of London Hotels. that will suit your budget and find the perfect short break destination for you; enjoy the plush comfort of a hotel with Theatreland on your doorstep, stay within a stone's throw of the fab shopping of Oxford Street, or find a boutique hotel. Start with a rest day from your flight before your walking tour, and finish with the discovery of the sights and pageants. London Thames River Evening Cruise Witness the beauty of London's highlights at dusk on this 2-hour evening cruise on the Thames River. Sip on a glass of sparkling wine and sink your teeth into a selection of moreish canapés as you glide past a host of top London attractions. Get up close to the likes of Big Ben, the London Eye and St Paul's Cathedral. See the Shard, the Gherkin and other recent additions to London's famous skyline, as well as history-steeped sights such as the Tower of London.
Suggested Tour
Price per person
£82 - Based on two people sharing a double/twin room for 0 nights
Price per person
£82 - Based on one person in single occupancy room for 0 nights