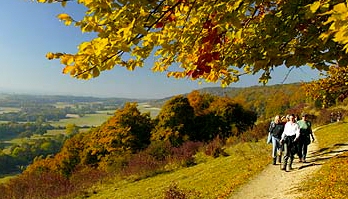 Follow the Pilgrims Way from Rochester to Canterbury
Tour Period
Start Any Day February to November
Description of Twin/Double
Most accommodation in Britain is charged on a Per Person basis (rather than per room basis). The price you see here for this tour is the Price per Person.
If you request a Twin Room there are two single beds (usually 3 feet wide) in the room.
If you request a Double Room there is one bed in which two people usually sleep (usually 4 feet 6inches wide).
Both the Double and the the Twin room are sometimes available for Single Occupancy (one person in the room), usually with a supplement to compensate the provider who would normally have received payment from two people.
If the accommodation offers Single rooms (one bed of 3 feet wide), this will normally be priced higher than half of a double or twin room. Unless space is limited in the village or accommodation we usually avoid these as the rooms tend to be older and less space to move about.
Tour description
A five centre inn-to-inn, self-guided walk, in the steps of pilgrims from Rochester to the shrine at the Abbey of Canterbury through Kent in England. You follow the North Downs Way and sections of the Pilgrims Way along the chalk downs and through small and almost isolated pretty villages. 6 nights bed and breakfast en-suite accommodation, 4 days walking with a day in Canterbury at the end, luggage transfer, guide book and maps.
The Pilgrims Way is the historic route supposed to have been taken by pilgrims from Winchester in Hampshire to the shrine of Thomas Becket at Canterbury in Kent. The route follows closely a pre-existing ancient trackway dated by archaeological finds to 500–450 BC, but probably in existence since the stone age, following the "natural causeway" east to west on the southern slopes of the North Downs. The course was dictated by the natural geography: it took advantage of the contours, avoided the sticky clay of the land below but also the thinner, overlying clay with flints of the summits. The exact route would have varied with the season. The trackway ran the entire length of the North Downs, and it is this Long Distance Path you will follow for four days to reach Canterbury. Here you will spend two nights to discover the past in this ancient walled town. St Augustine, sent by Pope Gregory the Great, arrived in 597 AD and became the first archbishop, establishing his seat (or 'Cathedra') in Canterbury. In 1170 archbishop Thomas Becket was murdered in the cathedral and ever since, Canterbury Cathedral has attracted thousands of pilgrims. As you sit in the bar having your meals at night you can imagine what trade your fellow hosts have, perhaps not as told by storytellers in The Canterbury Tales by Geoffrey Chaucer, but maybe just as interesting. Accommodation is more befitting a Bishop than a pilgrim, but then sometimes Pilgrims where Kings!
Sample schedule
START: Rochester is in North Kent on the River Medway, east of London.
FINISH: Canterbury is in Mid-Kent, south-east of London.
DAY ONE: Arrival at Rochester. You may arrive anytime after 3pm. If requiring dinner this is usually between 7pm - 9pm both in hotels (booked in advance) and pubs. Overnight Rochester, Kent, England.
DAY TWO: Walking from Rochester to Thurnham. 9.6 miles (15.3km). What an incredible start as you ascend from the River Medway up on to the North Downs Way. You pass the prettily named Blue Bell Hill and the Neolithic chamber tomb of Kits Coty House and Little Kits Coty. At Thurnham Castle you head down to the inn at Thurnham for the night. You may arrive anytime after 3pm. If requiring dinner this is usually between 7pm - 9pm both in hotels (booked in advance) and pubs. Overnight Thurnham, Kent, England.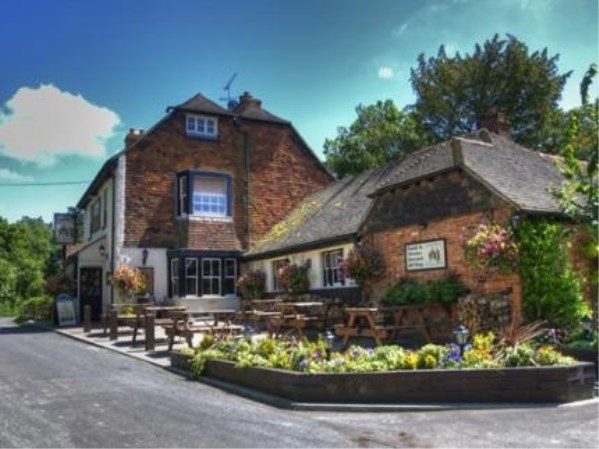 DAY THREE: Walking from Thurnham to Charing. 12.5 miles (20km). The track now passes near or through the delightful villages of Hollingbourne and Lenham, before arriving at Charing. You may arrive anytime after 3pm. If requiring dinner this is usually between 7pm - 9pm both in hotels (booked in advance) and pubs. Overnight Charing, Kent, England.
DAY FOUR: Walking from Charing to Chilham. 12.4 miles (19.8km). At All Saints Church in the hamlet of Boughton Aluph the path heads north shadowing the River Stour valley towards its final destination. Your overnight is reached with its fine castle at Chilham. Dinner can be taken at either of the pubs in the village (not included in tour price). Overnight Chilham, Kent, England.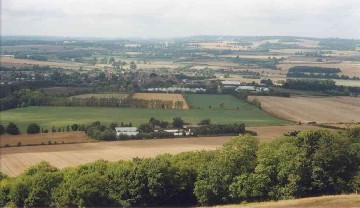 DAY FIVE: Walking from Chilham to Canterbury. 6.3 miles (10km). Past the gardens of Chilham Castle and Chartham. The route now passes through oak woodland and drops down to the river at the town gates of Canterbury. Dinner can be taken at any of the restaurants or pubs in the town (not included in tour price). Overnight Canterbury, Kent, England.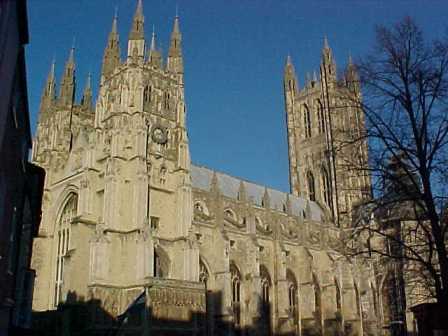 DAY SIX: A day to explore Canterbury. With your goal the Cathedral at Canterbury, today is the day to explore it, and the many little side streets with ancient buildings and taverns. Dinner can be taken at any of the restaurants or pubs in the town (not included in tour price). Overnight Canterbury, Kent, England.
DAY SEVEN: Departure. The tour finishes from Canterbury after breakfast.
Travel Description
RAIL TRAVEL from LONDON to ROCHESTER (NOT included in tour price): Rochester is the nearest rail station, which is served by trains every hour from London.
RAIL TRAVEL from CANTERBURY to LONDON (NOT included in tour price): Canterbury is the nearest rail station. You may require a taxi for the short distance from the guesthouse to the rail station. Trains operate every hour to London (Charing Cross).
Why book with us?
We've got 30+ years of walking tour experience
Only the very best handpicked tours at competitive prices
We work with you to create the perfect holiday. Just ask!
Useful Links
If you can't see exactly what you want and we are unable to adjust our tour shown here - Google may be able to help !
Custom Search
Tours to suit
If you want to book this walking tour, or chat about an altered schedule, please use the 'Enquire Now' tab above or contact us on philip@explorebritain.com
Related Categories
Tour Code:
SV06
Options
Discount rail ticket to Rochester and from Canterbury.
Grade
C
Grade Description
GRADE C: Between 9 - 12 miles (14 - 19kms) a day (the occasional day may be shorter or longer than these depending on location of suitable accommodation). Strong waterproof walking boots are desirable. A strong waterproof Jacket and overtrousers are recommended to protect you from rain and cold winds. This tour goes through some areas of remote habitation, and high mountains. You will do up to 2500 feet of ascent and/or descent a day. You will be walking through Farms and walking on Trackless Moorland. You will start walking about 9:30am and finish at approx. 5pm.
For safety reasons, you must be extremely proficient if you intend to walk alone. We strongly suggest against this. Ask yourself can you walk for hours, in driving rain and low visibility, confident in your map reading skills and morale boosting abilities? A friend in need is almost essential.
These grades are for guidance only. For any grade, depending on weather conditions, it may at times be damp underfoot, so waterproof boots are preferable.
Locate the weather forecast on the BBC page https://www.bbc.co.uk/weather/0/2639268, it becomes more accurate within 3 days.