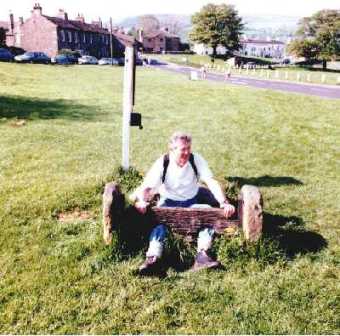 The City of York and Walking in the Yorkshire Dales National Park
Tour Period
Start Any Day February to November
Description of Twin/Double
Most accommodation in Britain is charged on a Per Person basis (rather than per room basis). The price you see here for this tour is the Price per Person.
If you request a Twin Room there are two single beds (usually 3 feet wide) in the room.
If you request a Double Room there is one bed in which two people usually sleep (usually 4 feet 6inches wide).
Both the Double and the the Twin room are sometimes available for Single Occupancy (one person in the room), usually with a supplement to compensate the provider who would normally have received payment from two people.
If the accommodation offers Single rooms (one bed of 3 feet wide), this will normally be priced higher than half of a double or twin room. Unless space is limited in the village or accommodation we usually avoid these as the rooms tend to be older and less space to move about.
Tour description
A 6 centre self-guided walking tour through the Yorkshire Dales National Park in Northern England. You will spend 2 nights exploring the walled city of York. We will then transfer you into the heart of the Yorkshire Dales National Park. You will walk up Wensleydale and down Swaledale – a dale means a valley. 7 nights bed and breakfast in en-suite bed & breakfast accommodation, 1 full day in York. 4.5 days available for walking in the Yorkshire Dales National Park. We include maps and transfer from the city of York at the beginning of the walking tour and to Darlington rail station at the end.
We will collect you from your hotel in York. You will start your walk through Wensleydale in Carperby, on the eastern edge of the Yorkshire Dales National Park, where James Herriot the Vet took his honeymoon. You will follow the track on the side of the hill where Roman and Medieval armies once marched from fort to fort. Below you the River Ure meanders through the green fields with contented cows working at providing you with the milk for that famous Wensleydale Cheese. You discover ancient stone villages in the National Park as you walk through Askrigg, Bainbridge and Hawes and drop into a local pub for a pint of Yorkshire Ale. At the head of the Wensleydale you will stay in Hawes, home to a weekly farmers auction before being transferred over the hill and into the more intimate and narrower Swaledale. The villages in the Yorkshire Dales National Park here are more remote and merge into the landscape of stone walls as you discover Muker and Gunnerside. This is sheep country and small fields enclosed with stone walls. You now descend with the River Swale to overnight at Reeth, huddled around the large village green. On your final walking day you will be taken to the sleepy village of Marske and then walk out of the Yorkshire Dales National Park through ancient woodland to arrive at the impressive market town of Richmond in North Yorkshire (once the home of The Sweet Lass of Richmond Hill). You stop in country hotels, and inns along the way, where accommodation is available in double, twin or single rooms, all with private facilities. Bed and Breakfast accommodation is inclusive. Your luggage will be transported from York and between the overnight stays and also transfer to Darlington Station is included.
Sample schedule
If you have time before or after your self-guided walking tour choose from over 200 hotels in CENTRAL LONDON. The UK' s number one destination for shopping breaks, theatre shows, the finest restaurants and top attractions - the capital has it all. Choose from our superb range of London Hotels. that will suit your budget and find the perfect short break destination for you; enjoy the plush comfort of a hotel with Theatreland on your doorstep, stay within a stone's throw of the fab shopping of Oxford Street, or find a boutique hotel. Start with a rest day from your flight before your walking tour, and finish with the discovery of the sights and pageants.
START: York is on the east side of England almost half way between London and Edinburgh.
START of Walk: Carperby is 14 miles south-west of Darlington in North Yorkshire.
FINISH of Walk: Richmond is 14 miles south-west of Darlington in North Yorkshire.
DAY ONE Arrival Day in the City of York: You will require a taxi for the short distance to the accommodation which will be close to the City Walls. Overnight City of York, North Yorkshire, England.
DAY TWO: Enjoying the sites of the City of York. You can explore this ancient city with its medieval wall and its even older Cathedral known as the Minster. You may also have a chance to see inside Yorvik, the reconstructed Viking York and Clifford's Tower. Don't forget to stop for lunch alongside the River and take Afternoon Tea in one of the numerous tea shops. Overnight City of York, North Yorkshire, England.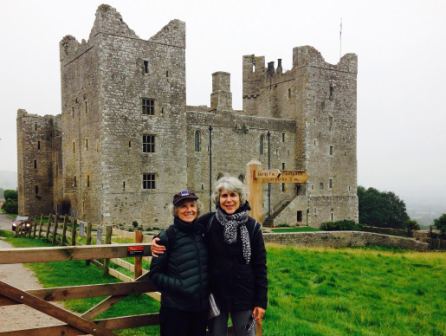 DAY THREE: Transfer to Lower Wensleydale. You will be collected at about 11am from the York hotel and will we transfer you (included in tour price) to Castle Bolton; where you will walk to the accommodation (while we move your bags direct to Carperby) in the quiet Yorkshire Countryside. You will stay in the inn where James Herriot took his honeymoon. Overnight Carperby, North Yorkshire, England.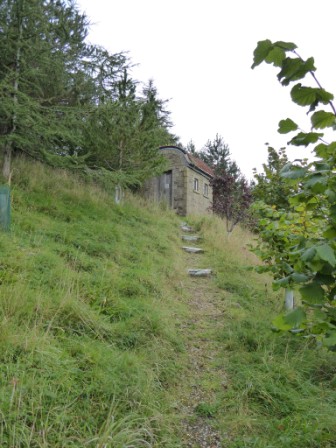 DAY FOUR: Walking from Carperby to Bainbridge in Wensleydale 7.5 miles (12km). You take the old grassy carriageway track that once linked Lancaster Castle on the west coast with Bolton Castle here in the east. You will drop down from the fellside into Askrigg – where the James Herriot TV series was filmed. You then follow the line of the old railway through the dale and arrive at Bainbridge. Overnight Bainbridge, North Yorkshire, England.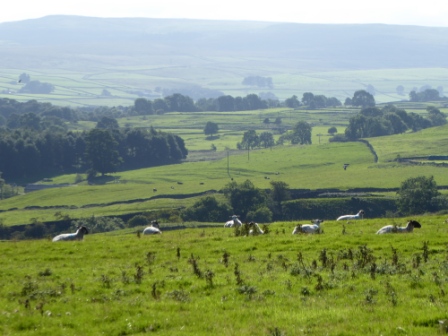 DAY FIVE: Walking from Bainbridge to Hawes in Wensleydale 6 miles (9.6km). You will now walk along the ancient Roman Road up the hillside, with magnificent views over the Yorkshire Dales, before dropping down to the accommodation in the market town of Upper Wensleydale. Overnight Hawes, North Yorkshire, England.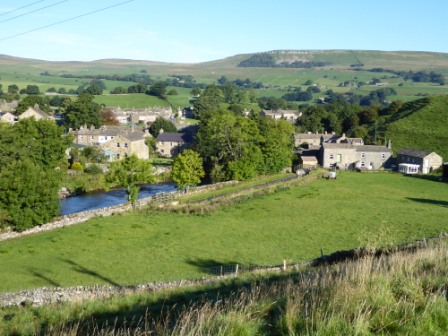 DAY SIX: Walking from Gunnerside to Reeth in Swaledale. 6.5 miles (10.4km). You will be collected after breakfast and leave Wensleydale behind as we transfer you over the Buttertubs Pass and to the stone village of Gunnerside in Swaledale. You will take the pleasant walk by the River Swale alongside small farm fields, full of sheep and hay barns, to finish on the green at Reeth. Overnight Reeth, North Yorkshire, England.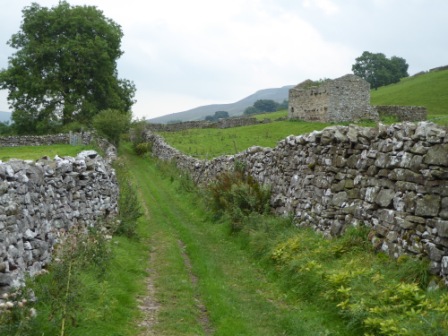 DAY SEVEN: Walk from Marske to Richmond in Lower Swaledale. 5.5 miles (8.8km). We transfer you to the sleepy village of Marske. From here you will walk out of the Yorkshire Dales National Park through some ancient oak woodland to the wonderful town of Richmond with its magnificent Castle overlooking the River Swale. You should have enough time to explore some of its cobbled side streets and maybe visit the castle itself. Overnight Richmond, North Yorkshire, England.
DAY EIGHT Departure Day: This walking tour finishes after breakfast with transfer of you and your luggage to Darlington rail station (included in tour price).
Travel Description
RAIL TRAVEL from LONDON to YORK (NOT included in tour price): London Kings Cross and York are the nearest rail stations. Presently the 11:00am train from London Kings Cross arrives at York at 12:45pm (direct).
TRAVEL from YORK to CARPERBY (included in tour price): You and your luggage will be collected from the hotel at about 11am and driven the 56 miles to the accommodation in Carperby.
TRAVEL from RICHMOND to DARLINGTON (included in tour price): You and your luggage will be collected from the accommodation and taken to Darlington rail station (the first ever public passenger rail service in the world operated from here in 1833).
RAIL TRAVEL from DARLINGTON to LONDON (NOT included in tour price): Darlington and London Kings Cross are the nearest rail stations. Presently the 11:00am train from Darlington arrives in London at 13:45pm (direct).
Tour Start Location
Why book with us?
We've got 30+ years of walking tour experience
Only the very best handpicked tours at competitive prices
We work with you to create the perfect holiday. Just ask!
Useful Links
If you can't see exactly what you want and we are unable to adjust our tour shown here - Google may be able to help !
Custom Search
Tours to suit
If you want to book this walking tour, or chat about an altered schedule, please use the 'Enquire Now' tab above or contact us on philip@explorebritain.com
Related Categories
Tour Code:
NE07
Options
Discount rail tickets to York and from Darlington.
Grade
D
Grade Description
GRADE D: Between 8 - 11 miles (13 - 18 kms) a day (the occasional day may be shorter or longer than these depending on location of suitable accommodation). Light Waterproof walking boots are desirable. A strong waterproof Jacket and overtrousers are recommended to protect you from rain and cold winds. No more than 1000 feet ascent and/or descent a day. Footpaths through farmland. You will start walking about 9:30am and finish at approx. 4pm.
These grades are for guidance only. For any grade, depending on weather conditions, it may at times be damp underfoot, so waterproof boots are preferable.