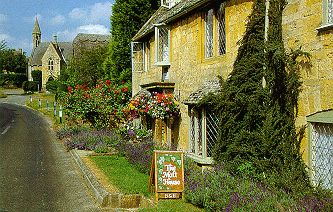 Through the Cotswold Countryside Chipping Campden to Winchcombe from and return London
Tour Period
Providing no further outbreaks of Coronavirus, I will be offering this tour to book from January 2022.
Description of Twin/Double
Most accommodation in Britain is charged on a Per Person basis (rather than per room basis). The price you see here for this tour is the Price per Person.
If you request a Twin Room there are two single beds (usually 3 feet wide) in the room.
If you request a Double Room there is one bed in which two people usually sleep (usually 4 feet 6inches wide).
Both the Double and the the Twin room are sometimes available for Single Occupancy (one person in the room), usually with a supplement to compensate the provider who would normally have received payment from two people.
If the accommodation offers Single rooms (one bed of 3 feet wide), this will normally be priced higher than half of a double or twin room. Unless space is limited in the village or accommodation we usually avoid these as the rooms tend to be older and less space to move about.
Tour description
Start and finish in London on a three centre inn-to-inn, self-guided walking tour through the finest villages on the Cotswold Way from Chipping Campden to Winchcombe in Gloucestershire, England. 3 nights bed and breakfast accommodation, 2 days walking, transfer of luggage, rail transfer from London to Moreton-in-Marsh, taxi from rail station to Chipping Campden. daily luggage transfer, taxi to trail where indicated in notes, guide book and maps, taxi to Cheltenham, rail transfer from Cheltenham Spa to London.
The Cotswold Way in Gloucestershire follows the escarpment of the Cotswald Hills from the small town of Chipping Campden to the Georgian City of Bath. This 3-night tour starts at the northern end, Chipping Campden and finishes at Winchcombe. The route offers a variety of scenery, from hilltop viewpoints to valley woodlands, through villages and farmland. You start walking from Chipping Campden nearly on the Worcestershire border close to Stratford-upon-Avon. Soon you are "racing" along "The Mile Drive" and looking down from Broadway Tower to the pretty village of Broadway. The next day we collect you by taxi and walk from Stanton through Stanway and past Hailes Abbey to the larger town of Winchcombe.
You stop in country guesthouses, farmhouses, hotels or inns along the way, where accommodation is available in twin, double or single rooms all with private facilities. Rail travel from and return to London, Bed and Breakfast, luggage transfer between the overnight stays, guide book, map and taxi to trail where indicated in the notes.
Sample schedule
START and RETURN: London Paddington
WALKING TOUR STARTS: Chipping Campden is about 10 miles south of Stratford-upon-Avon.
WALKING TOUR FINISHES: Winchcombe is about 9 miles east of Cheltenham.
DAY ONE: Arrival at Chipping Campden. You catch the direct train from London Paddington station which will arrive at Moreton-in-Marsh (included in the tour price). The journey takes about 90 minutes. We arrange collection from the rail station to take you to the accommodation in Chipping Campden (included in tour price). Dinner is usually served in hotels and pubs between 7pm - 9pm (not included in tour price). Overnight Chipping Campden, Gloucestershire, England.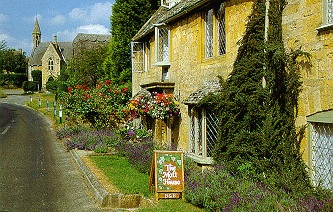 DAY TWO: Walking from Chipping Campden to Broadway. 6 miles (10km) and 600 feet ascent. On this first day the Cotswold Way takes you along "The Mile Drive" and heads up to the Broadway Tower and then down to the pretty stone village of Broadway. Dinner can be taken at the hotel or nearby inns at the village (not included in tour price). Overnight Broadway, Gloucestershire, England.
DAY THREE: Walking from Stanton to Winchcombe. 7.5 miles (12km) and 450 feet ascent. The taxi will collect you after breakfast and take you to the pretty sleepy village of Stanton (included in tour price). A lower-level day today except for the one rise up onto Stumps Cross. You finish at the town of Winchcombe, with much of interest, hiding within the streets. Dinner can be taken at any of the local inns or restaurants (not included in tour price). Overnight Winchcombe, Gloucestershire, England.
DAY FOUR: Departure. The walking tour finishes from Winchcombe after breakfast. We will transfer you to Cheltenham Spa rail station (included in tour price). The train will return you to London Paddington station (included in tour price).
Travel Description
RAIL TRAVEL from LONDON to MORETON-IN-MARSH and CHIPPING CAMPDEN (included in tour price): The nearest rail stations are London Paddington and Moreton-in-Marsh. Presently the 12:21 from London Paddington arrives Moreton-in-Marsh at 13:59 (direct). There are earlier and later trains.
TRANSFER from Moreton-in-Marsh to Chipping Campden (included in tour price): You will be collected from the station and taken directly to the accommodation in Chipping Campden.
TRANSFER from WINCHCOMBE to CHELTENHAM SPA (included in tour price): You will be collected by taxi from the inn and taken to Cheltenham Spa rail station.
RAIL TRAVEL from CHELTENHAM SPA to LONDON (included in tour price): Presently the 10:36 train from Cheltenham arrives London Paddington at 12:44 (direct). There are earlier and later trains.
Tour Start Location
Why book with us?
We've got 30+ years of walking tour experience
Only the very best handpicked tours at competitive prices
We work with you to create the perfect holiday. Just ask!
Useful Links
If you can't see exactly what you want and we are unable to adjust our tour shown here - Google may be able to help !
Custom Search
Tours to suit
If you want to book this walking tour, or chat about an altered schedule, please use the 'Enquire Now' tab above or contact us on philip@explorebritain.com
Related Categories
Tour Code:
SE03
Options
Extra nights at any overnight stay
Grade
D
Grade Description
GRADE D: Between 8 - 11 miles (13 - 18 kms) a day (the occasional day may be shorter or longer than these depending on location of suitable accommodation). Light Waterproof walking boots are desirable. A strong waterproof Jacket and overtrousers are recommended to protect you from rain and cold winds. No more than 1000 feet ascent and/or descent a day. Footpaths through farmland. You will start walking about 9:30am and finish at approx. 4pm. These grades are for guidance only. For any grade, depending on weather conditions, it may at times be damp underfoot, so waterproof boots are preferable.
Locate weather forecasts for BROADWAY on the BBC https://www.bbc.co.uk/weather/0/2654628 it becomes more accurate within 3 days.