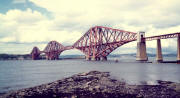 Walk the Fife Coast Path from Edinburgh Scotland
Tour Period
Start Any Day January to December
Description of Twin/Double
Most accommodation in Britain is charged on a Per Person basis (rather than per room basis). The price you see here for this tour is the Price per Person.
If you request a Twin Room there are two single beds (usually 3 feet wide) in the room.
If you request a Double Room there is one bed in which two people usually sleep (usually 4 feet 6inches wide).
Both the Double and the the Twin room are sometimes available for Single Occupancy (one person in the room), usually with a supplement to compensate the provider who would normally have received payment from two people.
If the accommodation offers Single rooms (one bed of 3 feet wide), this will normally be priced higher than half of a double or twin room. Unless space is limited in the village or accommodation we usually avoid these as the rooms tend to be older and less space to move about.
Tour description
Latest Covid-19 (Coronavirus) restictions affecting bookings: http://www.explorebritain.com/coronavirus-worldwide-outbreak/b49
A single centre, self-guided walking tour based in the city of Edinburgh, Scotland. 2 nights bed and breakfast in en-suite accommodation, 1 days walking, map and notes supplied. Local rail transfer to and from the walk. Add extra nights in Edinburgh to see some of the historical events and buildings. Please note some dates are impossible to get except at premium hotel rates (New year/Christmas, event weeks such as the Edinburgh Tattoo, Edinburgh International Festival and the Fringe weeks).
The Fife Coast path is approximately 8 miles long and runs through Dunfermline District between North Queensferry close to the Forth Road Bridge and Aberdour. The walk follows an easy path close to the Firth of Forth which has the city of Edinburgh on its south shore and Dunfermline on its north shore. You will stay for two nights in en-suite accommodation in the city of Edinburgh, close to the old town. On your walking day we will provide you with a rail ticket from Edinburgh Waverley rail station to North Queensferry. You start the walk in the shadow of the famous Forth Bridges. The Forth Bridge, completed in 1890, carries rail traffic into North Queensferry station and is a spectacular sight at night when it is floodlit. In daylight it is no less impressive and its bright red colour becomes apparent. This colour is a testament to the workmen who have a never-ending job to keep the bridge in good condition. The 7,000 gallons of paint required per year were specially produced for the project and have been supplied by the same firm since the Bridge was built. The walk meanders around the Fife coastline passing through the villages of Jamestown and past grand houses such as Donibristle House built in the 17th century and St Bridgets Kirk constructed in the 12th or 13th century. You have grand views out to Incholm Island with its Augustinian monastery abandoned after the reformation in 1560. You finish the walk at Aberdour, with its ruined castle where you catch the train to return you to Edinburgh town centre.
You may arrive ANY day and you will stay for 2 nights. The package includes accommodation, bed and breakfast, and rail travel as indicated in the notes to the start of the walk and at the end of the walk.
Advantages of a Single Centre Tour (staying in one place).
No need to unpack and pack your bags every day.
You are not walking because you have to get to the next place that is booked for that day.
If you feeling tired or not up-to walking - fine take the day off and enjoy where you are.
You have more time to build up a talking relationship with the guesthouse owners or people staying at the accommodation.
Handy if you would want to plan to meet up with somebody whilst visiting Britain.
Normally you are allocated a better room than single-night stay customers.
Sample schedule
START and FINISH: Edinburgh is on the east coast of Scotland.
ARRIVAL DAY: You can arrive any time after 3pm. If requiring dinner (not included in tour price) this is usually available in hotels and restaurants from 7pm. Overnight at Edinburgh, Scotland.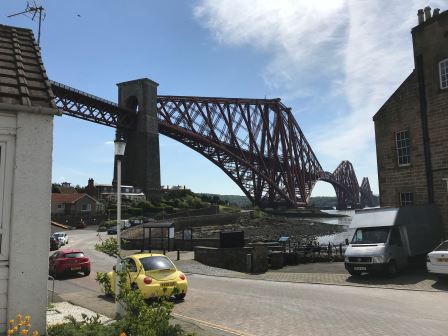 WALKING DAY ONE: Today you take the 20 minute local train journey from Edinburgh to North Queensferry (fare INCLUDED in tour price). You walk the fife Coast Path to finish at Aberdour. Aberdour is a small village near the Moray Firth coast, there is a lovely beach there with caves in the cliffs to explore. The ruin of Dundarg Castle stands on a promontory to the east and St Drostan's church with its ancient baptismal font stands at the side of the beach road. St Drostan is said to have landed here in 580 AD with his uncle St Columba and is said to have founded the first church here, one of the earliest in Scotland. St Drostan's well at the beach was once popular with people taking the waters. You return to Edinburgh by the local train which takes about 40 minutes. Overnight at Edinburgh, Scotland.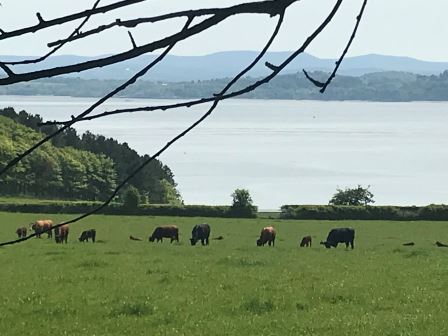 FINAL DAY: Departure. You depart Edinburgh after breakfast, though arrangements can usually be made to leave your luggage and look around the town before collecting the luggage later in the day.
Travel Description
RAIL TRAVEL from GLASGOW and LONDON to EDINBURGH (NOT included in tour price): The nearest airport is Edinburgh which has excellent connections from the London airports in England. There is a fast and very frequent airport link bus which will take you directly into Edinburgh Town Centre.
There is a very frequent rail service from Glasgow or London. You can connect easily with trains to other regions in the north of Scotland.
BUS TRAVEL from EDINBURGH AIRPORT to EDINBURGH TOWN CENTRE: There is a quick convenient shuttle bus service linking the airport with Edinburgh centre.
Tour Start Location
Why book with us?
We've got 30+ years of walking tour experience
Only the very best handpicked tours at competitive prices
We work with you to create the perfect holiday. Just ask!
Useful Links
If you can't see exactly what you want and we are unable to adjust our tour shown here - Google may be able to help !
Custom Search
Tours to suit
If you want to book this walking tour, or chat about an altered schedule, please use the 'Enquire Now' tab above or contact us on philip@explorebritain.com
Related Categories
Tour Code:
ES02
Options
Discount rail tickets to and from Edinburgh. Extra walking or sightseeing in Edinburgh days.
Grade
F
Grade Description
GRADE F: Between 3 - 6 miles (5 - 10kms) a day (the occasional day may be shorter or longer than these depending on location of suitable accommodation). Light Waterproof walking boots are desirable. A strong waterproof Jacket and overtrousers are recommended to protect you from rain and cold winds. No more than 500 feet ascent and/or descent a day. Footpaths through farmland. You will start walking about 9:30am and finish at approx. 4pm.
The grades are for guidance only. For any grade, depending on weather conditions, it may at times be damp underfoot, so waterproof boots are preferable.