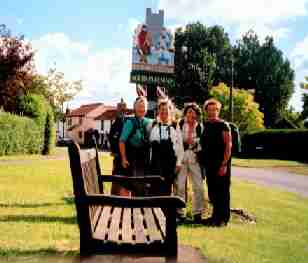 Walk The Pedders Way in Eastern England from Thetford to Hunstanton
Tour Period
Start Any Day February to November
Description of Twin/Double
Most accommodation in Britain is charged on a Per Person basis (rather than per room basis). The price you see here for this tour is the Price per Person.
If you request a Twin Room there are two single beds (usually 3 feet wide) in the room.
If you request a Double Room there is one bed in which two people usually sleep (usually 4 feet 6inches wide).
Both the Double and the the Twin room are sometimes available for Single Occupancy (one person in the room), usually with a supplement to compensate the provider who would normally have received payment from two people.
If the accommodation offers Single rooms (one bed of 3 feet wide), this will normally be priced higher than half of a double or twin room. Unless space is limited in the village or accommodation we usually avoid these as the rooms tend to be older and less space to move about.
Tour description
A five centre inn-to-inn, self-guided walking tour in England on the Pedders Way from Thetford to Hunstanton in Norfolk, England. 5 nights bed and breakfast accommodation, 4 days walking, luggage transfer, transfer from Thetford to start of trail, Hunstanton to Kings Lynn at the end of trail, guide book and maps.
The Pedders Way trail is ancient and historic. It offers some fine walking, with some sections of bridleway, quiet roads and tracks that can also be used by cyclists and horse riders. This Explore Britain tour begins amid the forest-strewn borders of Norfolk and Suffolk, following the chalk ridge of north-west Norfolk, and continuing to the North Norfolk Heritage Coast. The Pedders Way is a Roman road built shortly after AD 61. So the walk is a glorious patchwork of heath and forest, popular resorts and former ports, marl pits and agricultural land, cliffs and creeks, sailing centres and nature reserves.
You stop in farmhouses, country hotels, inns or guesthouses along the way, where accommodation is available in twin, double or single rooms, most but not all with private facilities. B&B, luggage transfer, taxi to start of Pedders Way, taxi to Kings Lynn on final morning, guide book and maps are included.
The trail terrain is gentle, which makes it particularly suitable for less able people, and contains several lengths where those with wheelchairs, frames or sticks can enjoy a country walk.
Sample schedule
If you have time before or after your self-guided walking tour choose from over 200 hotels in CENTRAL LONDON. The UK' s number one destination for shopping breaks, theatre shows, the finest restaurants and top attractions - the capital has it all. Choose from our superb range of London Hotels. that will suit your budget and find the perfect short break destination for you; enjoy the plush comfort of a hotel with Theatreland on your doorstep, stay within a stone's throw of the fab shopping of Oxford Street, or find a boutique hotel. Start with a rest day from your flight before your walking tour, and finish with the discovery of the sights and pageants.
START: Thetford is in East Anglia 34 miles north-east of Cambridge.
FINISH: Hunstanton is on the Norfolk Coast 16 miles north-east of Kings Lynn.
DAY ONE: Arrival at Thetford. You may arrive anytime after 3pm. If requiring dinner this is usually between 7pm - 9pm both in hotels and pubs (not included in tour price). Overnight at Thetford, Norfolk, England.
DAY TWO: Walk from Thetford to Little Cressingham. 14.5 miles. You will be taken by taxi to the start of the walk at Knettishall, just over the border in Suffolk. After crossing the Little Ouse River you head northwards on the Roman Road "The Pedders Way. Much of today is a landscape of fern, pine and heather. The end of the day crosses farmland to arrive at Little Cressingham. If requiring dinner this is usually between 7pm - 9pm both in hotels and pubs (not included in tour price). Overnight at Little Cressingham, Norfolk, England.
DAY THREE: Walk from Little Cressingham to Castle Acre. 11.9 miles. Much of today's walking is on metalled surfaces, mostly country lanes that ribbon over an undulating and nicely wooded landscape. The walking is easy. A welcome pub stop in the village of North Pickenham and then its off for the final section to finish at Castle Acre. If requiring dinner this is usually between 7pm - 9pm both in hotels and pubs (not included in tour price). Overnight at Castle Acre, Norfolk, England.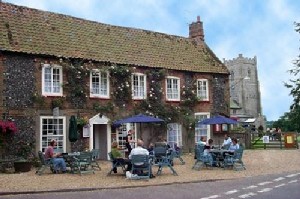 DAY FOUR: Walk from Castle Acre to Sedgeford. 14 miles. This is the most straightforward section of the Pedders Way, which maintains a persistent line for most of the rest of the journey to the coast. It provides a good walk amid open agricultural landscape. If requiring dinner this is usually between 7pm - 9pm both in hotels and pubs (not included in tour price). Overnight Sedgeford, Norfolk, England.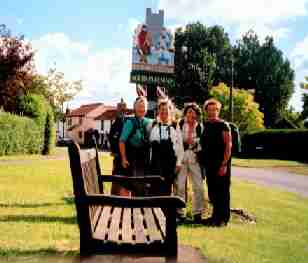 DAY FIVE: Walk from Sedgeford to Hunstanton. 9.5 miles. The Pedders Way soon reaches the sea at Holme next the Sea and then you follow the Norfolk Coast Path westwards to finish at the seaside resort of Hunstanton. If requiring dinner this is usually between 7pm - 9pm both in hotels and pubs (not included in tour price). Overnight Hunstanton, Norfolk, England.
DAY SIX: Departure. The tour finishes from Hunstanton after breakfast with transfer to Kings Lynn.
Travel Description
RAIL TRAVEL from LONDON to THETFORD (NOT included in tour price): The nearest rail station is Thetford served by frequent direct trains from London (Liverpool Street). Presently the 12:00 arrives 14:22pm (change Norwich).
TRAVEL from HUNSTANTON to KINGS LYNN (included in tour price): We will transfer you to Kings Lynn.
RAIL TRAVEL from KINGS LYNN to LONDON (NOT included in tour price): The nearest rail station is Kings Lynn served by frequent trains to London (Kings Cross).
Tour Start Location
Why book with us?
We've got 30+ years of walking tour experience
Only the very best handpicked tours at competitive prices
We work with you to create the perfect holiday. Just ask!
Useful Links
If you can't see exactly what you want and we are unable to adjust our tour shown here - Google may be able to help !
Custom Search
Tours to suit
If you want to book this walking tour, or chat about an altered schedule, please use the 'Enquire Now' tab above or contact us on philip@explorebritain.com
Related Categories
Tour Code:
PP05
Options
Discount rail tickets to Thetford and from Kings Lynn.
Grade
C
Grade Description
GRADE C: Between 9 - 12 miles (14 - 19kms) a day (the occasional day may be shorter or longer than these depending on location of suitable accommodation). Strong waterproof walking boots are desirable. A strong waterproof Jacket and overtrousers are recommended to protect you from rain and cold winds. This tour goes through some areas of remote habitation, and high mountains. You will do up to 2500 feet of ascent and/or descent a day. You will be walking through Farms and walking on Trackless Moorland. You will start walking about 9:30am and finish at approx. 5pm.
For safety reasons, you must be extremely proficient if you intend to walk alone. We strongly suggest against this. Ask yourself can you walk for hours, in driving rain and low visibility, confident in your map reading skills and morale boosting abilities? A friend in need is almost essential.
These grades are for guidance only. For any grade, depending on weather conditions, it may at times be damp underfoot, so waterproof boots are preferable.